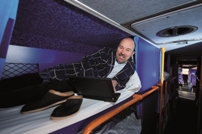 Stagecoach has been named Company of the Year at the 2012 Scottish Business Awards.
The group took the headline award at the event last month at the Edinburgh International Conference Centre.
Some 90 companies were shortlisted across 12 categories in what is Scotland's biggest cross- industry awards programme.
Awards recognised: entrepreneurship, innovation, business growth, new product development, marketing, social business, corporate social responsibility, green business and customer focus.
The judges said Stagecoach had shown "outstanding overall strength" across all of the awards criteria. It was also shortlisted in the Green Business of the Year category.
"This is a tremendous achievement and a tribute to the commitment of our employees right across the business," said Sir Brian Souter, Stagecoach chief executive. "Stagecoach was founded in Scotland more than 30 years ago and it continues to be the base for our international operations in the UK and North America. We've always believed in growing our business sustainably, developing new ideas and sharing our success with local communities. More than 2.5m customers rely on our greener, smarter, and better value transport services every day and we have a strong track-record of delivering good returns for our investors."
Stagecoach co-founder and non-executive director Ann Gloag presented the Customer Focus award at the event, which was hosted by comedian and broadcaster Angus Deayton.
Keynote speaker was Sir Bob Geldof, who talked about the concept of social businesses.