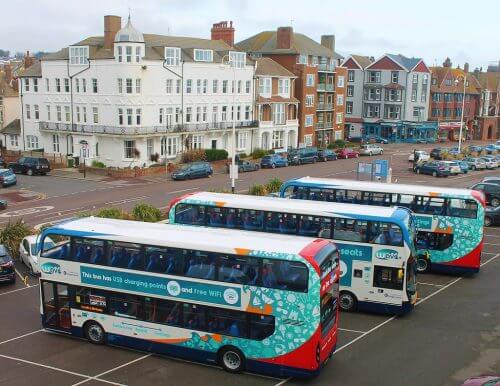 The £2.5m fleet of 12 Enviro400 MMCs refresh the service which carried 1.3 million passengers along the East Sussex Coast last year
Stagecoach South East has launched a new fleet of buses which operate along the East Sussex coast.
The £2.5m fleet of 12 Euro 6 Alexander Dennis Ltd (ADL) Enviro400 MMC double-decker buses are now out on the roads on the coastal route 99, branded the 'Wave,' which runs between Hastings and Eastbourne. The vehicles feature free WiFi and USB charging points for customers.
The new buses, along with all other Stagecoach buses in the south east, run on a green fuel blend which contains at least 20% biofuel derived from a range of waste products. They are specified with high-back faux-leather seats and sport a new and refreshed 'Wave' livery, featuring a montage inspired by the seaside route.
Stagecoach said that the 99 route carried more than 1.3 million passengers in 2017.
Stagecoach South East Manager Director, Philip Norwell, said: "This is exciting news for our customers and for people thinking of choosing to use the bus. The route maintains important links between coastal towns and with these new buses we hope to tempt even more people to try the service.
"These buses aren't just about providing comfortable seats. People want to use their travel time to catch-up and stay connected. Our free WiFi and USB charging will allow them to do this, contributing to our customers' overall journey experience whilst reducing our impact on the environment."
The new buses coincide with the company's investment in digital technology. Contactless payment went live on all Stagecoach services in Kent and East Sussex last year. Stagecoach also launched a mobile app.
To promote the introduction of the new vehicles, the company held events in Eastbourne and Hastings town centre, giving the public a chance to see the new buses first hand. A private launch event was held at the De La Warr Pavilion in Bexhill for local partners and investors, for which attendees included the MP for Bexhill, Huw Merriman and local celebrity Sandra Martin, best known for her role on the Gogglebox television show.
On Mondays to Saturdays Wave route 99 buses run every 20 minutes, serving Silverhill, Hastings town centre, St Leonards, Bexhill and Eastbourne. On Sundays, the route operates hourly.