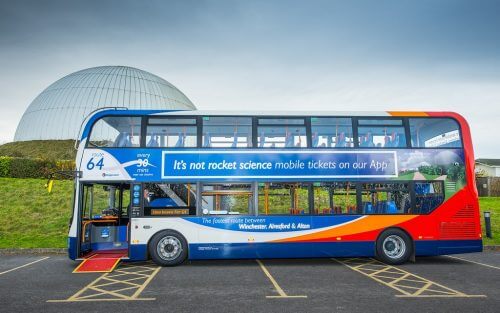 Stagecoach South has invested over £1m in six new double-decker buses for its Winchester route 64. The new Alexander Dennis Enviro400 MMCs feature USB charging points at every seat, free WiFi and Euro 6 engines.
The operator has also introduced extra evening journeys and doubled the number of buses on Sundays and public holidays.
Route 64 provides a direct service linking Winchester city centre, Alresford, Ropley, Four Marks and Alton, where it connects with South Western Railway services.
Stagecoach South Managing Director, Edward Hodgson, said: "It's fantastic to not only be launching new buses on the route 64, but to be improving the timetable at the same time.
"The route is very direct, almost the same way you would drive to Winchester in your car, but travelling by bus you don't need to worry about finding a place to park and you can use the journey to catch up online with our free WiFi and USB charging sockets.
"With the increase in evening journeys especially at this time of year people can go out and enjoy an evening with friends without worrying about driving home. We believe that these improvements will encourage more people to choose the bus as their preferred mode of travel, and we hope that customers will enjoy travelling on the new buses."