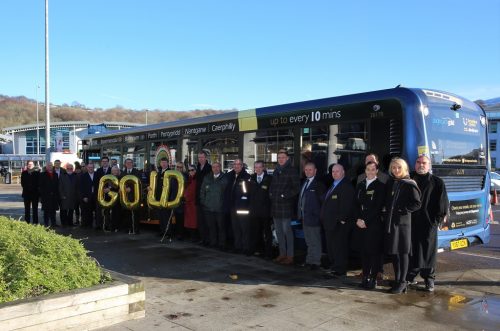 Stagecoach South Wales has launched a fleet of Gold-branded buses for passengers travelling between Blaencwm and Blaenrhondda in the Rhondda Fawr Valley to Caerphilly.
The operator has invested over £4m in new buses for the 120/130 bus route, which passes through the Rhondda Fawr valley serving Tonypandy, Porth, Pontypridd and Nantgarw towards Caerphilly. The 24 new ADL Enviro200 MMCs feature E-Leather high back seats, increased legroom and free WiFi and USB charging points. They have also been specified with bilingual audio and visual next stop announcements. Each is powered by a Euro 6 stop-start engine.
The latest launch of Stagecoach Gold buses is the third fleet of its kind to be introduced in South Wales. Service 120/130 joins the 132 Gold service which was launched in 2016 and operates from Maerdy to Cardiff. The first Gold service, Service X24, was launched in 2015 and operates from Blaenavon to Newport via Pontypool and Cwmbran.
Nigel Winter, Managing Director of Stagecoach in South Wales, commented: "We continue to significantly invest in our fleet to improve the passenger experience. Investment in new buses since 2007 has reached over £30m, with 263 new buses. With over £4m of investment, this year adds to a consistent pattern of investment in passenger transport in South Wales.
"Our Gold buses have been designed with our customers' needs in mind. We appreciate that on journeys, such as the Blaencwm to Caerphilly service, our customers value the use of free WiFi and USB charging so they may spend their time commuting productively, and welcome greater comfort and more environmentally friendly engine in the latest Euro 6 stop/start technology.
"As part of our Gold service, we ensure that each one of our drivers is trained to provide a five star customer service experience. Our team of regular, enthusiastic drivers will help customers, whether it's their first time travelling by bus or they are a frequent traveller, and the touches of comfort will make a real difference to a more enjoyable as well as productive journey with free wifi and USB charging points."
To celebrate the official launch, a new Gold liveried bus was on display at Coleg Y Cymoedd, Nantgarw Campus for students to view in advance of going into service on Tuesday, December 12.
Ken Skates, Cabinet Secretary for Economy and Transport, said: "These vehicles represent a significant investment by Stagecoach, the latest of several in the South Wales Valleys in recent years. I am sure passengers will be just as impressed with these new buses as we are.
"At Wales' first annual Bus Industry Summit earlier this year, we discussed not only the challenges the bus industry faces now, but also to begin to map out the longer term, sustainable future of what is a vital public service.
"We all want a world class, sustainable transport system in Wales. Local bus services make a tremendously important contribution to the fulfilment of our ambitions for local transport and the improvement of air quality."