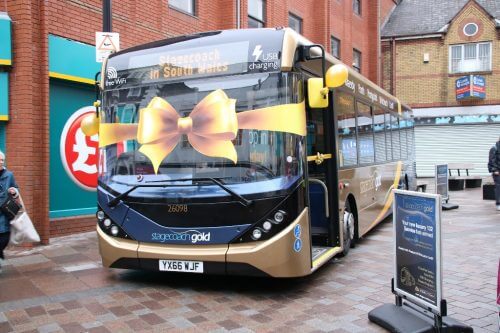 Stagecoach in South Wales has recently launched its latest fleet of Gold buses on the 132 service between Maerdy in the Rhondda Valley and Cardiff, representing a £4m investment
The 24 Alexander Dennis (ADL) Enviro200 MMCs, which pass through Porth, Pontypridd and Whitchurch, include leatherette high back seats, increased legroom, free WiFi and USB charging.
The latest launch of Stagecoach Gold buses is the second fleet of its kind to be introduced in South Wales, joining the X24 service currently operating from Blaenavon, Varteg Hill, Pontypool, Cwmbran and Newport.
Nigel Winter, Managing Director of Stagecoach in South Wales, commented: "We continue to significantly invest in our fleet to improve our service and passenger experience.
"Investment in new buses since 2007 has reached £29.4m, with 263 new buses, with a further £4m this year adding to a consistent pattern of investment in passenger transport in South Wales. Working with our partner at Rhondda Cynon Taf County Borough Council, their investment in the passenger waiting environment and with bus priority features, coupled with the new bus investment, will deliver a major improvement for bus customers in the Rhondda Fach.
"Our Gold buses have been designed with our customers' needs in mind. We appreciate that on journeys, such as the Maerdy to Cardiff service, our customers value the use of free WiFi and USB charging and welcome greater comfort and luxury.
"As part of our Gold service we ensure each one of our drivers is trained to provide a five star customer service experience. Our team of regular, enthusiastic drivers will help you, whether it's your first time travelling onboard or you're a frequent traveller, and the touches of luxury will make a real difference to a more enjoyable and, with free Wifi and USB charging, productive journey."
Councillor Mark Norris, Cabinet Member for Corporate Services for Rhondda Cynon Taf County Borough Council, said: "Throughout Rhondda Cynon Taf some of the newest vehicles in South Wales are running and it is important that the Council continues to work with its operating partners by similarly investing in the renewal of its public transport facilities."
The 132 route operates every 12 minutes Monday to Saturday daytimes and half hourly throughout most of the day on Sundays.