Operator says this is the first fleet of fully electric buses to enter service in the south of England outside London
Stagecoach South has announced that it will be introducing nine new BYD ADL Enviro200EVs in January.
The buses which have a 36-passenger capacity and a range of 150 miles are also equipped with USB charging ports and free WiFi.
Working in partnership with Surrey County Council, Stagecoach secured Government funding from the green energy transport pot, which looks to bolster low emission public transport services and cut emissions.
The vehicles will be powered by an energy storage facility at the Peasmarsh depot.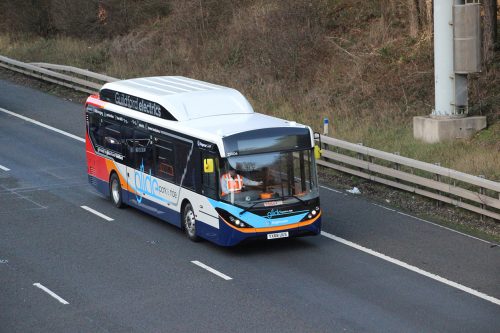 Built by UK-based Zenobé Energy Ltd, this technology includes a system of batteries that are charged during the day by the existing grid infrastructure which then, in turn, charge the buses while they are parked overnight.
Edward Hodgson, Managing Director for Stagecoach South, said: "This is such an exciting moment for us as we introduce the first fleet of fully electric buses for the south of England and this marks a huge step forward for greener travel in the Guildford area.
Stagecoach is committed to improving air quality across the country and making bus travel the safest and cleanest travel option."
Surrey County Council Cabinet Member for Environment, Mike Goodman, said: "This is fantastic news for Guildford.
Not only will the new Park & Ride fleet of buses be smoother and quieter, they will be much better for the environment while also bringing an economic boost to the county because Alexander Dennis is building them and using them will reduce congestion."