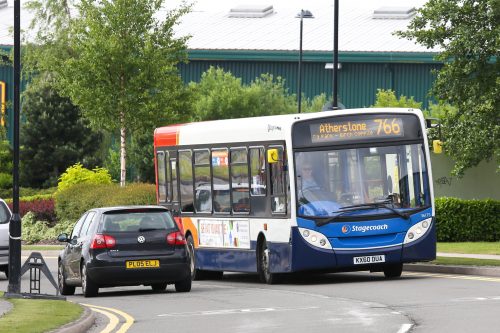 Stagecoach Group plc released its trading update for year ending April 29, 2016. The operator revealed that its megabus.com, UK Bus and North American operations have seen a decline in revenue, but warned that independent macro-economic forecasts have caused uncertainty in figures.
UK Bus (Regional Operations) suffered a 1.9% decrease in like-for-like revenue growth according to the operator's trading statement, released September 28. Stagecoach said that dwindling passenger numbers, underlying local economic conditions and sustained lower fuel prices could be contributing factors.
This is reflected in the like-for-like revenue per vehicle mile, which was 0.5% below the equivalent prior year period. However, Stagecoach said it is going to remain positive as it can see prospects for improving revenue trends later in the year. This will be done using enhanced marketing and promotion/development of its digital offering.
The UK Rail and Virgin Rail Group's revenue is up by 4.7%, but Stagecoach said the outlook for the industry remains uncertain.
The group's London division is also facing a decline, seeing revenue growth decrease by 0.9%, and seen a small net reduction in contracts with Transport for London (TfL). Stagecoach said it will not alter its strategy and will continue to bid prudently as it feels it is the right choice for long-term sustainability. It still aims to deliver long-term operating margins in excess of 7%.
Stagecoach's European branches of megabus declined by 10.1%, but the group hopes to see an increase from the recently completed sale of the retailing part of the megabus Europe business to FlixBus earlier this year.
North America's revenue decline was 3.3%. However, other businesses in North America grew at 0.1% and trading remains in line with expectations.
The next planned update will be the announcement of the Group's interim results for the six months ended October 29, 2016, on December 7, 2016. Stagecoach will announce three more updates due in June, September and March.