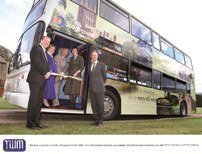 On Sunday (October 23) Stagecoach West unveiled a new hourly bus service which operates from Gloucester to Hereford.
The route 33 is a revision of an old route which terminated at Ross-on-Wye, meaning passengers for Hereford had to change buses. The new route, branded the County Link, connects Gloucester and Hereford via Churcham, Huntley, Lea, Weston under Penyard, Ross-on-Wye, Much Birch and King's Thorn. It runs hourly during the day Monday to Saturday.
Stagecoach's route 32 service has been extended to Hereford on Sundays and weekday evenings to cover the route 33 downtime.
The service enhancements were supported by a wide-scale marketing campaign which saw money-saving vouchers for Routes 32 and 33 despatched to over 45,000 households along the routes. Stagecoach has also made changes to its 35 and 36 routes in its Ross-on-Wye network this month.
Speaking at an official launch event for the service at the Pilgrim Hotel in Much Birch on Friday, Ian Manning, managing director of Stagecoach West, said: "We are pleased to have worked with Herefordshire Council and Gloucestershire County Council as part of their re-tendering exercise of some services recently to produce a new timetable structure which provides more regular buses for our customers between Gloucestershire and Herefordshire."
Cllr Adrian Blackshaw, Herefordshire Council cabinet member for highways & transportation, said: "We're delighted that Stagecoach West has committed to this new enhanced service which will make it easier for people to travel between the two counties.
"We particularly welcome the voucher scheme they have introduced which is timely given the current economic climate."