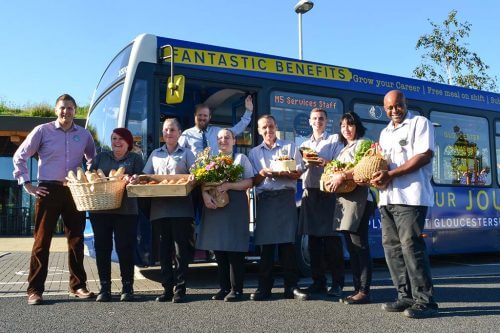 Stagecoach West has launched a branded bus letting people know 'they don't need their own transport to work at Gloucester Services', reported GloucestershireLive.
Stagecoach West has teamed up with Gloucester Services to provide transport to the service station.
It has created a 'wrap around' design on the outside of the bus promoting job opportunities at Gloucester Services.
Kirsty Iles, HR Manager at Gloucester Services, said: "We are proud to be a large employer who provides employment for local Gloucestershire people to help us showcase the best of what the county has to offer.
"We couldn't do anything without our family of 460 colleagues working together to create long lasting positive memories for our customers.
"We work with people who really care about food and where it comes from and want to share this experience with our customers.
"We're thrilled with the new bus and hope it will help spread the message throughout Gloucestershire about the great employment opportunities on offer at Gloucester Services."
Mark Gale, Chief Executive of Gloucestershire Gateway Trust, said: "Our colleague bus is key to reaching out into many of our communities and making our job opportunities accessible to all."