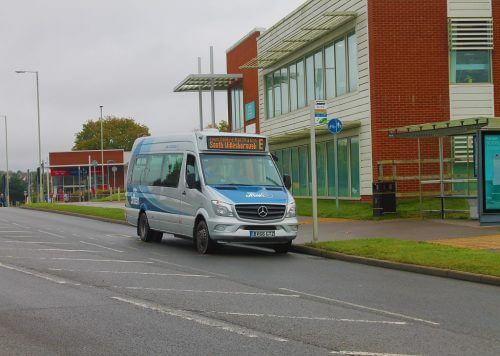 Minibus service sees enough success since its launch in February to expand to two additional local routes
Stagecoach South East has extended its 'little & often' minibus service in Ashford.
Since Sunday, November 19, local routes E and G have seen an increase in frequency when they became part of the little & often network, which is operated using Mercedes-Benz Sprinters.
Godinton Park and Repton Park, which previously got two buses an hour, have had the service frequency double to every 15 minutes. Little Burton, The Street, Eureka Park and South Willesborough have also seen a boost in frequency, with buses now serving the locations every 20 minutes.
The fleet of Sprinter minibuses are specified with faux leather seats and Euro 6 engines and first hit the road in February. Since then, Stagecoach said it has seen growth in passenger numbers on the high frequency B and C routes, connecting Ashford town centre and station with Park Farm and Kennington, and the William Harvey Hospital and Willesborough. Routes E and G have now been brought into the higher frequency little & often scheme.
Stagecoach South East Managing Director, Philip Norwell, said that the routes have continued to attract more and more passengers: "In 2015 we doubled the frequency of buses in Godinton Park. Now, less than three years later, we're able to double it again. This is testament to Ashford's continued growth and our commitment to supporting it with a responsive and high quality transport network."
As part of the changes, route E will extend beyond Ashford centre to serve South Willesborough and Orbital Park. Route G will become a dedicated service for Godinton Park and Repton Park linking them with the town centre and international station.
Stagecoach said routes B and C will continue to operate much the same with little & often buses every few minutes throughout the day, but there will be some changes to bus times to fine-tune the service to reflect the number of passengers carried at various times of the day.
A recent survey commissioned by Stagecoach found that nearly 60% of its new customers who began using the little & often service since it launched in February, previously used their cars to make the same journeys.
Philip Norwell added: "This is a clear indication that providing a higher frequency, quick and convenient bus service helps reduce car use – which in turn frees up road space and improves air quality in the town."
The expansion of the little & often minibus operation comes eight months after Stagecoach first introduced the technology to pay using contactless on its buses around town. The company said that over a third of all bus fares in Ashford are now paid by contactless, including Apple and Android Pay. A growing number of passengers are also buying their bus ticket on their Smartphone.