As millions of people around the country opened their Christmas presents and tucked into their roast turkey, a team of people working at intercity coach operator megabus got behind their steering wheels and got their cleaning equipment ready to ensure that people could be connected with their friends and family on Christmas Day.
Stagecoach's megabus services run right over the Christmas and New Year period, with coaches connecting cities and towns across the country, even on Christmas Day when around 4,500 miles were covered.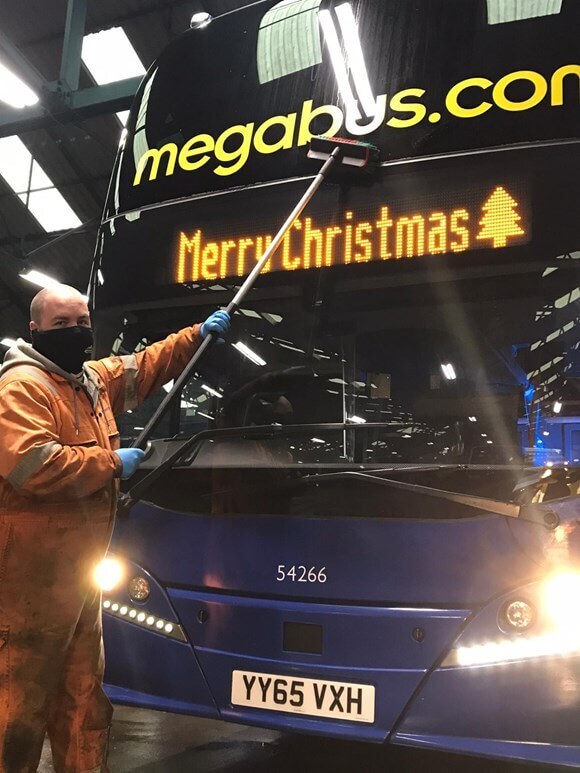 Mark Venables, megabus Managing Director, explained how the company managed to keep services running and make sure its staff get the chance to spend time with their loved ones over Christmas: "We're really proud to be one of the only public transport providers running services on Christmas Day, but we also recognise that it's such a special time for families across the country, particularly this year with such a limited window.
"All of our Christmas Day services are run by employees who have put themselves forward – in many cases it's because they don't celebrate Christmas on the 25 December, but we also have lots of the team whose children have grown up, and who volunteer to work to let colleagues have time with their younger children – I find that really touching. Our team also go out of their way, particularly on Christmas Day, to help customers get into the festive spirit by wearing Santa hats and Christmas jumpers.
"This year we had drivers, engineers and the all-important cleaners working. Our customers travel to see family members and loved ones, and we also have customers who need to get somewhere on the 25 because they're working on the 24 or 26 December."
Wojciech Kawczynski is a Duty Manager at Victoria Coach Station. Coming from Poland, Wojciech celebrates Christmas on 24 December. He says: "Customers travel with megabus because the roads are not busy and like me, some of our customers do not celebrate Christmas typically on 25. It is the only time of year when people actually take a break and can relax and spend time with their family and friends and we help them do just that. I also get to see my colleagues on their special day."
Tony Singh is a controller in the Glasgow megabus control room. He said: "I'm really happy to work Christmas Day now that my children have grown up. It gives the rest of the megabus team that have younger kids the opportunity to be with their children."
Mark concluded: "As a business, Stagecoach and megabus are focused on making sure we have a diverse and inclusive workforce that represents the needs of our customers. These diverse experiences and backgrounds all help to ensure we are delivering the best service for our customers, and we also see the added benefits in times like Christmas Day, when we can run our services using volunteer staff and letting the people who want to spend Christmas with their families do just that.
"We're extremely proud of the hard work of all of our employees in keeping the country moving and our communities connected during the pandemic, and we would like to thank our customers for their support and wish everybody our best for the festive season."
Cities and locations served on Christmas and New Years day included London, Heathrow Airport, Bristol, Cardiff, Birmingham, Manchester, Manchester Airport, Leeds, Sheffield, Newcastle, Edinburgh, Glasgow.