Stephensons of Essex has acquired NIBS Buses of Wickford, which will continue to operate under its own brand.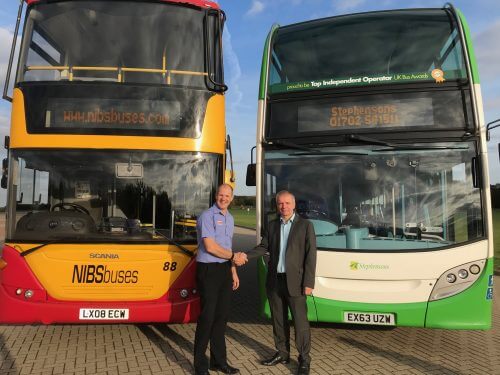 NIBS operates around 30 vehicles on a mixture of commercial and tendered local bus and school services, with a turnover of over £2.5m. The company was established in 1968 by Chris and Bill Nelson, and was purchased by Stephensons' parent company Eastern Transport Holdings from current owners and directors Steve and Janet Nelson.
Stephensons Managing Director, Bill Hiron, said: "NIBS is a well-run and well-respected family business with a loyal team of staff, and shares a similar vision and values to our own.
"The purchase gives us a presence in an area largely outwith our current sphere of operation and has an experienced and enthusiastic management and staff team. I am delighted to welcome NIBS to the family, and it will be very much business as usual for NIBS."
The NIBS identity and its red and yellow buses will remain, with Stephensons stating that there will be no immediate changes to NIBS' routes, times or fares.
Steve Nelson commented: "While the company is made up of its routes, its vehicles and other assets, its staff are, by far and away, the most valuable part of the company. We have had a very low turnover of staff and I would like to thank them and acknowledge their contribution, professionalism, sense of teamwork and friendly service to the public over the last 50 years.
"I wish them all the very best as they move forward together in what has been a consistently profitable and successful enterprise."