Stewarts Coaches, part of the Kings Ferry Group, attended the 75th D-Day anniversary in Portsmouth with a fleet of 27 coaches.
In a post on its Facebook page, Stewarts Coaches said: "Stewarts worked with Shelley Ashman International back in 2016 on HMQ90 (The Queen's 90th Birthday Celebrations) held in Windsor and following its success, were booked again to help with the 75th D-Day anniversary taking place in Portsmouth.
"Stewarts were contracted to supply 27 coaches for the veterans (including those travelling on the Boudicca), Members of Parliament and the BBC/media.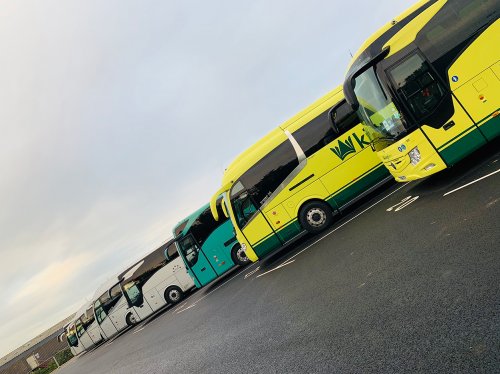 "All staff were accredited and vehicles were on site the day prior to the event to undergo stringent security clearance.
"On the day, drivers seamlessly shuttled the invited guests to and from the event between the hours of 0430 and 2000.
"The event was a huge success with event organiser's saying "it was the best delivery of a transport plan they had seen."
Veterans were extremely grateful and expressed their heartfelt thanks to the team at the end of the day.
"An extremely rewarding and emotional day that everyone was honored to be a part of. A big thank you to all involved!"
Stewarts Coaches used its own fleet and also drew resources from its subsidiary Wood Coaches in Leicester, fellow Kings Ferry Group member Clarkes of London and the Kings Ferry itself.
Stewarts Coaches also posted an impressive video of the 27 coaches arriving on its Facebook page.
You can read more News here: cbwmagazine.com/category/news