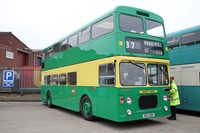 The 40th anniversary of the formation of the original Cleveland Transit firm was marked in style on Sunday, when Stagecoach North East, the company's modernday successor, opened the doors of its Stockton depot to the public on Sunday (September 28). The event also marked 20 years since Stagecoach bought Cleveland Transit.
Visitors were able to go behind the scenes of the engineering facilities, and for a small donation to charity, have a ride through the bus wash or have their names put on a bus destination.
Buses from Stagecoach's frontline fleet, including hybrid and gas-powered examples, rubbed shoulders with restored vehicles from the 500 Group. One of the latter, Cleveland Transit H106, a Northern Counties-bodied Bristol VRT registered 'RDC106R' was formally unveiled following its restoration.
Other attractions included a recruitment / training stand, where visitors could take a hazard perception test – along with stalls selling models and memorabilia.
A grand total of £826.83 was raised at the event, which Stagecoach North East has turned into £1,000. The money is being donated to charity.