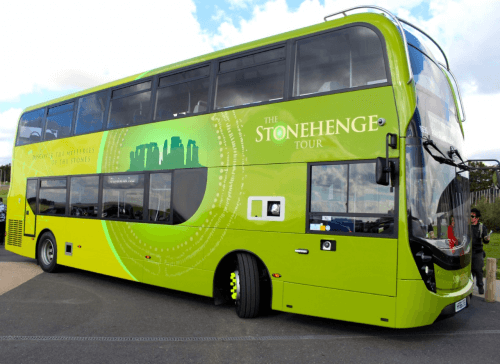 Locals and visitors to Wiltshire will soon have the chance to enjoy the county's most famous landmark in comfort, with Go-Ahead Group-owned Salisbury Reads set to resume its Stonehenge Tour from 12 April. The tour runs from Salisbury railway station and city centre through to Stonehenge.
"We have been running buses for essential travel continuously throughout the pandemic but now we are ready and excited to be welcoming tourism back to this spectacular county," said Salisbury Reds Head of Communications, Nikki Honer. "Our Stonehenge Tour buses give people the opportunity to conveniently travel to this popular destination in comfort whilst enjoying on board commentary where they will learn many historical facts. And our team has been counting down the days to celebrate Wiltshire opening its doors to visitors once again – giving them the chance to experience everything the area has to offer.
"From our part, we are ready. We have been busy preparing our low emissions buses – with stringent cleaning regimes. And paying for tickets is easy. Customers can buy an all-in-one ticket that includes the entrance fee into Stonehenge and Salisbury Cathedral – with Apple or Android Pay. Or they can buy online and from our travel shop. They can also buy a bus only ticket, which is ideal for those who already have English Heritage membership.
"We plan to run to our pre-Covid spring/autumn timetable from 12 April – and for an hourly service to operate throughout the summer."