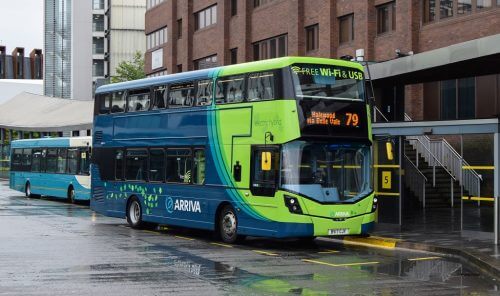 Operator claims drivers enjoyed increased pay 'by 10.2% over four years' at time of wage restraint in other industries across the region
Members of the Unite and GMB trade unions at Arriva North West (ANW) have rejected the operator's latest pay offer, which is set to lead to more strikes in the run-up to Christmas. According to the unions, 83% of bus drivers and engineers turned down the revised penny an hour deal, based on an 85% turnout at two separate ballots, counted in Liverpool.
Following industrial action on November 20 and 27, further strikes are now scheduled for December 4, 7, 12 ,13, 14, 20, 21, 22 and 23. Depots affected are: Birkenhead, Bolton, Bootle, Green Lane (Stoneycroft), Macclesfield, Runcorn, St Helens, Speke, Southport, Winsford and Wythenshawe.
Unite Regional Organiser, John Boughton, said: "Unite warned Arriva's management that an offer of a penny an hour, which is not even enough to buy a tin of beans after an entire week's work, would not end this dispute. Our members fully understand that 10 days of strikes before Christmas will be inconvenient for the general public. This action is a final resort and is directly due to Arriva's management's refusal to enter into realistic negotiations."
Eddie Parker, GMB Organiser, said: "It comes as no surprise GMB and Unite members voted to reject this offer by an overwhelming majority. A pay increase of just one pence per hour is nothing more than a kick in the teeth to our hard-working members who keep the North West moving every day. Instead of sitting back, trousering their massive salaries, Arriva's top brass need to stop and think about the wellbeing of their staff, and how the people in the North West are going to get to work every day."
Commenting on the latest rejection of the revised pay offer, Phil Stone, MD for Arriva North West, said: "We are deeply disappointed that people in Merseyside and the wider North West are facing yet more disruption in the run-up to Christmas. ANW has proposed a fair and competitive pay rise to staff – 2.6%, rising to 3% for the six garages in Merseyside and Runcorn. The offer follows years of consecutive pay rises above inflation at a time of significant pay restraint across other industries in the region.
To put this into context, we have increased pay for our drivers by 10.2% over four years. This latest pay offer will mean an average driver will earn an additional £756 per annum. We care about our staff and their working conditions, which is why we provide the best terms and conditions of any bus company in the North West region, including a final salary pension, 34 days' holiday (including Bank Holidays), company sick pay scheme, free bus travel for families, fully funded driver training, and enhanced rates for weekend working alongside other benefits.
"An extended strike in the run-up to Christmas will have a serious impact on people's lives and the local economy. We believe that it is now time for proper mediated talks with the Unions to break the deadlock so our staff and passengers can get back to normal before Christmas. We therefore urge the Union to reconsider resolving this dispute by carrying out a confidential postal ballot of all union members, including the 250 engineering staff not previously included in the ballot for the new pay offer. We also strongly suggest, in the interests of staff and passengers, of returning to ACAS to act as the mediator going forward."