National Express Coventry recently invested in £5m worth of new buses for the city.
The investment has seen 17 top-spec Platinum double-deckers rolled out on the area's university routes – the 11, the 11U and 12X, which also serve the station. The new Platinum vehicles are also fitted with new contactless ticket machines, with quicker reaction time.
Matt King, National Express Coventry Operations Manager, said: "We're thrilled to introduce our brand new top-spec Platinum double-deckers to our university routes.
"University of Warwick students and all other customers using these beautiful buses enjoy extra leg room, free Wi-Fi, USB chargers and next stop announcements.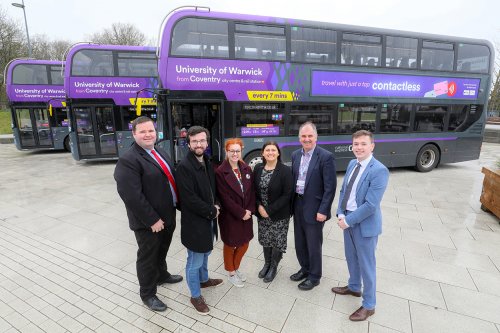 "As well as being good news for our customers, these new Platinum buses are great news for the environment.
"The engines inside them are smart hybrids – some of the cleanest on the market.
"They emit extremely low levels of the pollutant nitrogen oxide, so they are better for people's lungs.
"These fantastic new vehicles are our pledge as part of our Bus Alliance with Transport for West Midlands (TfWM) – to increase the amount of people taking the bus, to keep our customers happy and to keep the air clean across Coventry."
Suzanne England, Programme Director for Keeping Campus Moving, University of Warwick, said: "We are delighted with this upgrade to the whole fleet of National Express buses serving the University and connecting our students, staff and visitors with Coventry and Leamington."
Read more bus news here: cbwmagazine.com/category/news/buses