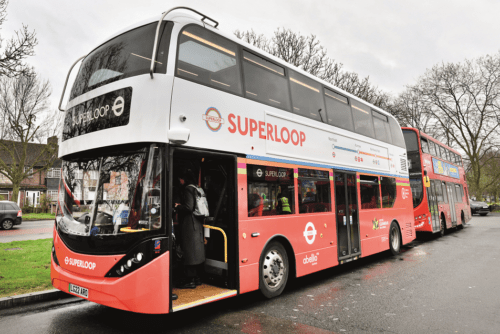 A major expansion of outer London's bus network with a series of limited-stop express routes branded Superloop has been proposed to improve connectivity across London boroughs
Mayor of London Sadiq Khan has announced plans for a network of limited-stop express bus routes circling the capital connecting outer London town centres, railway stations, hospitals and transport hubs. The proposed new Superloop services come with the promise of quicker journey times, and the Mayor of London is providing £6m funding as an initial catalyst to improvements to outer London orbital bus services.
The new Superloop-branded routes are proposed to be introduced in stages, with some routes that are planned to become part of the network already in operation, including the X140 connecting Heathrow and Harrow and route X26 between Heathrow and West Croydon. The next new part of the plan will be a route linking Harrow with North Finchley, which TfL says is subject to consultation.
Following that, views will be sought on future sections of the orbital network. The proposed future sections include a limited-stop express link between North Finchley and Walthamstow, and between Walthamstow and the Royal Docks via Ilford. Links are also proposed between Bexleyheath, Bromley and Croydon. Some of the benefits of the proposed Superloop will be realised later this year, TfL says, with the X26 doubling in frequency to become every 15 minutes.
TfL says its data shows that the most recently introduced limited-stop express route, the X140, delivered a 10-15% increase in weekday demand, and that surveys found that customers had increased levels of satisfaction with their journey times, whilst nearly four in five said they would use the X140 more often.
The Superloop brand has been designed to work with the existing London Buses brand by using a new version of its logo and a new bus livery which TfL says has been conceived to ensure clear identification of the new service, but still make it recognisably part of the London Buses network. Mayor of London Sadiq Khan said: "When I made the tough decision to expand the ULEZ London-wide, one of my key commitments to Londoners was to improve transport links in outer London. Today I am delivering on that commitment as we announce the Superloop, the game-changing new network of express buses that will add over four million additional kilometres to our bus network in outer London, linking stations, town centres, hospitals and transport hubs. These new routes will make it much easier for Londoners to get around the capital, and help build a better, greener London for everyone."
TfL Chief Customer and Strategy Officer Alex Williams added: "The Superloop is the jewel in the crown in our plans to strengthen alternatives to the private car ahead of the ULEZ expanding London-wide and is a game changer for outer London. For the first time we will be bringing a number of the capital's town centres together with express orbital routes. We know these kinds of services are hugely popular from what we have seen in the rise in the number of people using the X140 during the week.
"Part of making the bus network even more attractive is providing new routes and increasing frequencies where it is required – both of which we are doing with this new iconic service. The Superloop is on top of, and complements, a million additional bus kilometres committed by the Mayor in the capital's outer ring and includes improvements from Sutton in the south to Brent Cross in the north, as well as transformational changes to London's rail network outside the centre of the city."