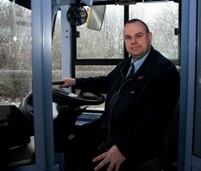 Driver is hailed for his quick thinking and heroic actions when he came across a car accident
Bus Driver Steven Godfrey, 41, from Bonchester Bridge (just outside Hawick) has been awarded a 'Superstar' award by First Scotland East, after he came to the rescue of a middle aged couple involved in a road traffic accident.
Steven was driving First Scotland East's Service 68 from Jedburgh to Galashiels and at Ancrum, he came across a BMW x5, which had obviously just been involved in a crash.
"The car was on its side and judging by how badly it was damaged, it had obviously been involved in a very nasty incident," said Steven, who works from First Scotland East's Galashiels depot. "It did not appear as if any other vehicle was involved, but it was clear that they had collided with some trees on the side of the road.
"There was smoke emanating from the vehicle, so I knew the accident had happened just a couple of minutes beforehand.
"I parked the bus, and approached the car. The couple were trapped inside, but I was able to communicate with them. As per my safety training at First Scotland East, I asked if the ignition was turned off, and then set about trying to get them free. I was very concerned that the engine would go up in flames and so I knew that getting them free safely and quickly was critical."
Steven, who has been a driver with First Scotland East since 2009, continued: "By now another motorist had stopped to provide help and suggested we try to pull them through the window, but I was really concerned this would upset the balance of the car and cause further injury. I decided it was much safer to gain access via the boot. So we quickly removed the headrests to create enough space so that we could set them free.
"We successfully got them out via the boot and I immediately escorted them on board the bus, all the time reassuring them that the emergency services were on their way, and that everything would be fine.
"It looked as if they had a few nasty cuts and bruises and were obviously in shock. It was a miracle that they escaped from the wreckage without serious injury."
Operations Director for First Scotland East, John Gorman, sad: "Steven's quick thinking and heroic actions could have saved the couple's lives. I'm very proud of his actions – he fully deserves his Superstar Award."