Iveco Bus has won the 'Sustainable Bus of the Year 2020' award in the Intercity category with its Crossway Natural Power coach. Unveiled last year at France's Autocar Expo, the vehicle's benefits have already been recognised by public transport specialists. The Crossway Natural Power is equipped with the latest-generation Iveco Cursor 9 NP engine with compressed gas tanks mounted on the roof. The Natural Power version provides the same accessibility, passenger capacity and luggage space as the diesel version, has a range of up to 600km and is compatible with rapid or slow filling. The Cursor 9 NP engine delivers 360hp or 265kW, also the same as its diesel equivalent.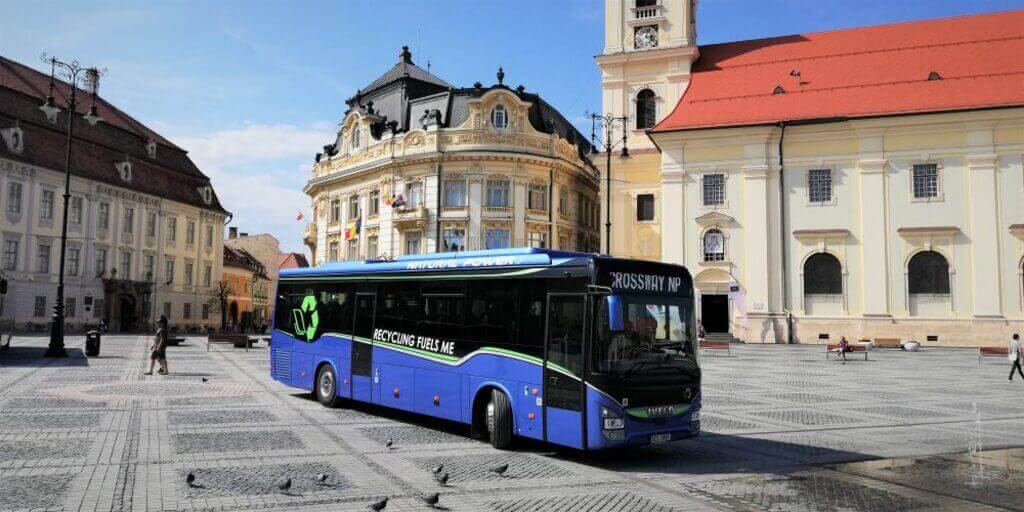 The jury for the 'Sustainable Bus Awards' comprises seven representatives from key European magazines – Autobus (Italy), Mobilités Magazine (France), Busfahrt (Germany), OV-Magazine (the Netherlands), InfoBus (Poland), Infotrucker (Romania) and Carril Bus (Spain) – with a focus on transverse sustainability principles, specifically the ability to establish a positive image of the vehicle with the public. Several aspects are taken into consideration, such as safety, comfort, noise levels, recyclability of components and the general sustainability commitment of the manufacturer.
"With this 'Sustainable Bus of the Year 2020' award, we are reaffirming our position as segment leader with a mature, virtuous and eco-responsible well-to-wheel solution. By awarding the title to our Crossway Natural Power, the jury members have recognised its qualities and confirmed the choice of the many operators who have already selected this vehicle since its launch," commented Stéphane Espinasse, Iveco Bus Brand Leader, during the award ceremony held at Busworld, in Brussels, Belgium.