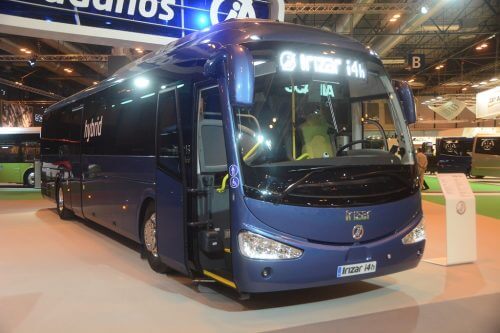 BELGIUM The Sustainable Bus of the Year 2018 will be awarded to three of 19 contenders at Busworld, Kortrijk in October.
Products vying for the urban title are the Heuliez Gx337, Irizar i2e, Solaris Urbino 12 electric, Van Hool Exqui.City, VDL Citea SLFA-181 electric, Vehixel Cytios 4 CNG and Volvo 7900 electric. Intercity candidates are the Irizar i4 hybrid, Iveco Crossway CNG, Scania Citywide LE hybrid, Setra MultiClass S418 LE Business, Solaris InterUrbino and VDL Futura FMD2-135. Coach title entries are the Irizar i6 integral, MAN Lion's Coach, Mercedes-Benz Tourismo, Neoplan Skyliner, Setra ComfortClass S516 HD/2 and the VDL Futura FHD2-106.
Many of the candidates are alternative fuelled vehicles. However, the award is characterised by a cross-cutting idea of sustainability, intended to establish a positive image of buses and coaches to the eyes of the general public. Hence, in addition to low level of emissions, several aspects can come into play, such as safety (both for driver, passengers and pedestrians), comfort, noise, recyclability of components and the general environmental commitment of the manufacturer.
Finalists will be announced in September.