New services are launching on the North West's first guided busway.
The guided busway between Leigh and Manchester is said to be on schedule and due to open on April 3, 2016.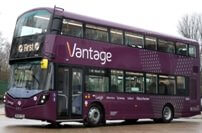 Brand is to be introduced onto the Leigh guided Busway First Greater Manchester has unveiled the new service brand 'Vantage' to be introduced on the Leigh-Salford-Manchester premium Busway later this year.