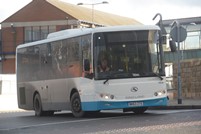 Independent Barnsley-based operator Tates Travel has ceased trading. Begbies Traynor has been appointed as administrators.
The operator ceased running services with immediate effect on Monday, February 8. South Yorkshire Passenger Transport Executive (SYPTE), which subsidises a number of buses previously run by Tates Travel, is taking urgent action together with Barnsley Metropolitan Borough Council and local bus operators to put alternative services in place.
Temporary arrangements have been made to ensure many of the service continue to run. Work is also underway to resume services on the remaining affected routes.
Stagecoach has been operating services 23, 23A, 24, 25, and 92 since Tuesday, February 9, though the services were operated to alternative timetables. The frequency of service between Penistone and Holmfirth (service 92) has been reduced to two hourly, while Langsett is not currently serviced.
TM Travel is operating service 300 with no changes to the route or timetable.
Services 8, 8A, 34, 34A, 96, 96A and 97 are currently not operating, though SYPTE is continuing to work to restore some service.