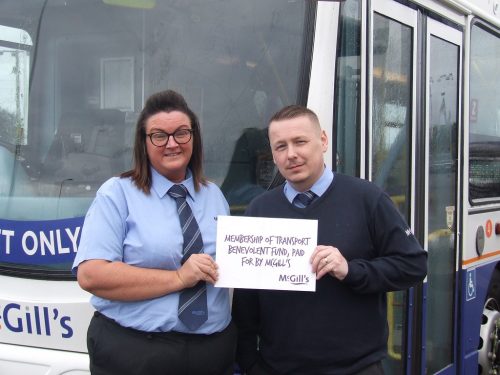 Scotland's largest independent bus operator, McGill's, is now paying for all drivers to join the Transport Benevolent Fund (TBF).
The TBF is a charity which supports public transport industry employees, with medical cover for themselves, partner and children for £1 per week.
McGill's recognised this is an excellent benefit for employees, and has now incorporated this into the employee reimbursement package for all driving staff.
Assistance provided by the charity includes; legal advice, laser eye surgery, complementary therapies and medical equipment should they need it out-with the NHS.
Driver Fiona Wilson from McGill's Inchinnan depot, said: "I had always paid into TBF as I find it is excellent value-for-money. I recently had an operation on my foot and the scheme allowed me to go private for my physiotherapy; meaning I didn't need to be added to a waiting list and was back to full health quicker – as it's essential for my driving role. I was pleasantly surprised when McGill's took on the payment towards the fund, it's a very thoughtful gesture and I am really grateful. I think it's an excellent employee perk."
Ralph Roberts, McGill's Managing Director, said: "We think the scheme is an excellent benefit for our employees, and we are delighted to ensure they receive all the support available to them through the TBF. We're very aware that a driving job these days can be stressful, and we are constantly aiming to assist our staff in any way we can."