ITALY
Electric midibus manufacturer Tecnobus, which started producing electric minibuses in the early 1990s, has been revived under new management with a goal to meet the challenges and opportunities of the growing European e-bus market.
"We restarted operations between January and September this year thanks to a €40 million investment, half of which should be financed by a development contract. Our business plan envisages a goal of achieving an annual sales volume between 200 and 250 vehicles with a turnover of around €60 million," said CEO Paolo Marini.
The firm sold almost 600 vehicles in 47 countries before it ceased operations a few years ago, but the new Tecnobus has relaunched with CEO Paolo Marini's ICAB Group, which operates in the industrial automation sector, as the only shareholder.
"We now have about 15 employees. We will reach 70 by the end of the year, and when fully operational we would like to reach 150," added Paolo. "We will mainly hire profiles such as mechanics, bodyworkers, and electrotechnicians. From a production point of view, the headquarters will remain the current one. We will however double the size of the plant. We will build a test line in the current plant and the production lines in the new spaces that we aim to organise within three years."
Current production capacity is between 70 and 100 vehicles per year of the revised Gulliver midibus, which had its first showing at the Italian Next Mobility Exhibition. It has had some updating to its looks, but now features a new-generation digital cockpit with video surveillance system, LED external lights, disc brakes on all four wheels, and a 32kW central electric motor powered by 71 kWh of battery capacity.
Eight Tecnobus Gulliver electric minibuses were supplied to the UK in 1998, operating in Bristol and on Merseyside, and were followed by six larger three-axle Pantheon models in 2002. On 5 December, Tecnobus placed the first of two new Gullivers in service in the city of Civitavecchia where it will be used on a shuttle service carrying cruise ship passengers to and from the city's port.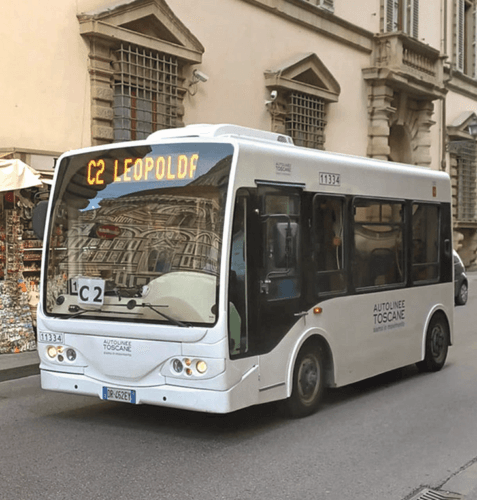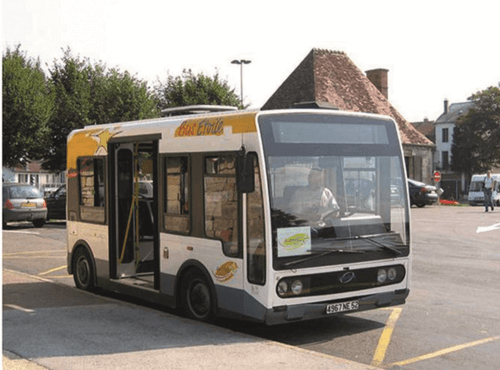 Tecnobus is reviving production of its facelifted electric midibus (left) to capture a slice of the growing e-bus segment in Europe. The type has been used and trialled in a number of locations worldwide since its launch in the 1990s, including this French example (right). TECNOBUS