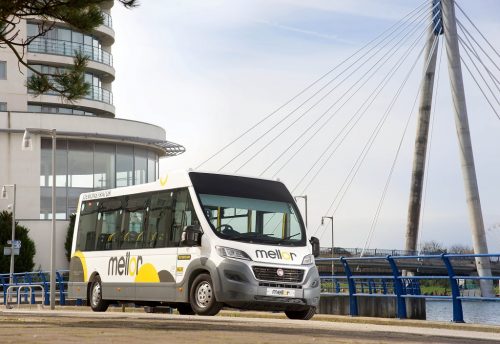 Telford & Wrekin Council has taken delivery of five new Mellor Orion minibuses as part of a vehicle replacement programme.
The Orions have been allocated to a number of functions within the council transport offering. One of these functions will be to provide specialist transport for children with disabilities for school and nursery runs.
Another key function of the buses is providing skills trips for older children to forest school, outward bound activities and the hydro pool for physio. When not on school runs, the vehicles will be used for the Dial-a-Ride and social shopper routes, which take elderly and disabled people in the community out to shopping and social activities.
The vehicles have been specifically configured for their roles and all feature wheelchair access with low floors, power doors and seatbelts. Each bus has the capacity to carry up to 16 passengers at a time, which is sufficient for these local services.
Nicola White, Transport Manager at Telford & Wrekin Council, said: "We specified the Orion with its ultra low-floor to offer our passengers the comfort and accessibility they need.
"We currently operate a fleet of 48 vehicles, 39 of which are low floor and 14 are Mellor. These five vehicles are replacements for buses that have recently been taken off the road, as they were no longer economical to maintain and operate.
"Our services are extremely important to many local residents ranging in age, with a variety of specialist needs, as well as accessibility for older members of the community some of who live in more remote areas of the borough."
The vehicles feature a number of practical elements to enhance passenger comfort and safety including a rapid slide electric door, front ramp with buzzer, fold-out ramp to the rear, and additional storage boxes in the back.