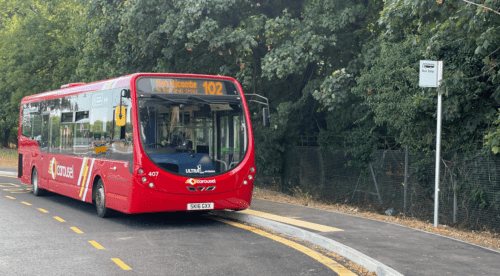 Go-Ahead reports that its UK-wide bus companies have carried 10 million passengers at the nationwide promotional fare of £2 since the Government began funding the fare capping scheme on New Year's Day; putting it another way, more than £20 million worth of tickets have been sold by the operator.
Go-Ahead has taken part in the initiative, which is part of the Government's Help for Households scheme, on its networks from Cornwall to Northumberland. The company reports that the biggest seller of discount tickets in its network is subsidiary Brighton & Hove and Metrobus, where more than 2.5 million passengers have travelled at £2.
Initially planned to run until the end of March, the £2 adult single fares offer across England has now been extended by three months to the end of June, backed with an additional £75 million of funding from the Department for Transport. Martin Dean, Go-Ahead's Managing Director for Regional Bus, said: "The £2 fare cap is an excellent initiative to promote bus travel, and it is great news that it will continue. This valuable funding will safeguard hundreds of routes which are commercially challenging but important for local people.
"Buses provide vital connections for local communities across the United Kingdom and we're pleased to be working with the Department for Transport to make them as affordable as possible. A big increase in passenger numbers on services such as Carousel Buses' route 102 demonstrates how popular this offer is proving to be."
Carousel Buses' route 102 is an hourly service between Heathrow Airport and the Buckinghamshire towns of High Wycombe, Beaconsfield and Gerrards Cross, used by residents travelling to the airport to catch flights and people who work at the airport. Go-Ahead said that passenger numbers were hit during 2020 and 2021 by the Covid-19 pandemic, during which the section between Uxbridge and Heathrow was temporarily suspended, and by closures to road tunnels in autumn 2022. Following a partnership with Heathrow Airport, funding was gained to re-instate the link to the airport from July 2022, helping the passenger recovery to begin. The company reports that the recovery accelerated dramatically since 1 January, when the cost of a single fare for the full journey was reduced from £8 to £2. Within the first eight weeks, passenger numbers doubled, Go-Ahead reports, and are now 130% higher than they were at the end of 2022.