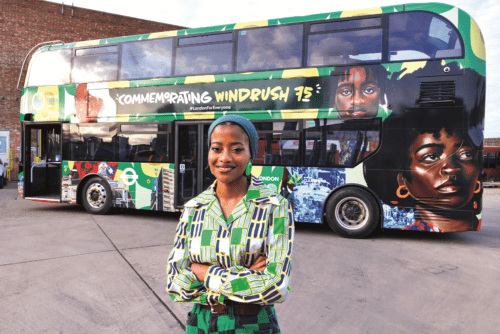 Transport for London (TfL) is celebrating the culture and contributions of the Windrush generation with a specially-designed bus wrap by artist Baraka Carberry. The wrap was designed to form part of the transport body's parade at Notting Hill Carnival over the weekend of 26 and 27 August, themed to commemorate the 75th anniversary of the arrival of passengers on the SS Empire Windrush.
In collaboration with Lagniappe Mas band and the Windrush Generation Legacy Association, TfL took part in the carnival's parade on both days of the celebrations. The double-decker was provided by Go-Ahead London, and carried a mix of elders, some who previously worked on the London transport network, and current TfL colleagues, in recognition and celebration of their contributions to transport in the city.
Artist Baraka Carberry, who created the wrap, was one of five artists of Caribbean heritage who created the Windrush 75 series of stamps for Royal Mail. The wrap visually entwines the culture, community and colours of Notting Hill Carnival and the 75-year history of Windrush, in a vibrant, richly layered design. Featuring three characters – an elder and two younger descendants – the artwork has been designed to capture the generations of people who have shaped the stories of Windrush and the carnival. A collage of photographs from the London Transport Museum collections forms the fabric of the characters' clothing, featuring people, places and symbols that have shaped the Windrush legacy along with memories from the carnival in years gone by.
The wrapped bus was unveiled at Morden Wharf bus garage in Greenwich, with Baraka able to see her artwork at full scale.
TfL's Transport Commissioner Andy Lord said: "Our transport network would not be the success it is today without the incredible contributions of the Windrush generation who answered the call to come here from the Caribbean to work, so Baraka Carberry's design is a fitting tribute. I am honoured to join our Windrush veterans, their descendants and colleagues past and present at the carnival to mark this significant anniversary of the arrival of Empire Windrush, whilst also celebrating the diversity of our people."
Baraka commented: "The Windrush generation came to rebuild England after WWII. I felt that it was important for this artwork to represent our past, present and future. In fact you could say it is a combined celebration or our heritage which has become something that we are very proud of. We will never forget the many doors that the Windrush generation has opened for us today.
"I feel honoured to have been able to create this artwork and hope that others especially those of Caribbean heritage come to love and celebrate this celebrative artwork, which is a tapestry of who we are. I hope that it inspires young black children to make their hopes and dreams count allowing them to become beacons which inspire future generations."
Managing Director of Go-Ahead London David Cutts added: "Carnival celebrates our capital's wonderful diversity, which is also reflected in the people we employ and the communities we serve. We are proud that one of our zero-emission electric buses has been wrapped in stunning artwork that pays tribute to the Windrush generation and their descendants. This unique vehicle is well worth a look and it will form part of a Transport for London float this coming Sunday and Bank Holiday Monday at Carnival. Our public transport system has a long and proud history of dedicated service from people who have travelled from around the globe to make the capital their home and we are delighted to celebrate their ongoing contribution to London life."