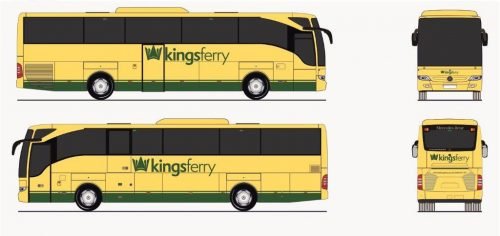 National Express-owned The Kings Ferry has taken delivery of 10 49-seater Mercedes-Benz Tourismo Euro 6 coaches from EvoBus UK
The operator told CBW that the vehicles go into service this week. They are powered by 290kW engines, coupled to ZF EcoLife transmission.
The Kings Ferry's latest order follows seven Tourismo Euro 6 coaches received over the last two years. Built to a bespoke specification, the latest new Tourismos are among the first to carry a revised livery bearing the new Kings Ferry logo.
The new fleet's specification includes Luxline leather-fabric upholstered seating with fold out trays and three-point seatbelts, seat and wall mounted USB charging points, provisions for WiFi installation, uprated overhead service controls with ambient LED lighting and dual 19" fixed LCD displays.
Each coach features a hot water boiler and centre toilet with hand dryer. Full DDA specification includes destination displays and wheelchair lifts.
Lee Hake, EvoBus Area Sales Manager for London and South East, said: "It is fantastic to work with an award-winning operator like The Kings Ferry.
"The operator's commitment to excellence and quality of service is impressive and I'm delighted The Kings Ferry have chosen the Tourismo again to uphold the standard of comfort, luxury and safety passengers have come to expect."
All 10 coaches benefit from a comprehensive safety specification including advanced emergency braking system and lane departure warning system.