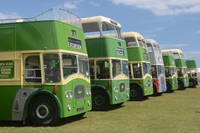 Southern Bus Events are pleased to announce that following the success of Southdown100 they are reviving the much-missed Southsea Spectacular Bus Rally. Last held in 2003 the event will take place on Southsea Common, Portsmouth on Sunday, June 12 2016.
The event will comprise a display of preserved and modern buses and coaches from around the country as well as a selection of enthusiast's sales stalls. Free bus services using vintage vehicles will operate between Southsea Common and The Hard Interchange and along the seafront to Eastney.
The event is being organised by some of the team that organised Southdown 100 and Southsea Common is again being used with the kind permission of Portsmouth City Council.
Mark Turner and Julian Bowden of Southern Bus Events said: "So many people have said to us how much they enjoyed Southdown100 as it brought back memories of their annual visit to the Southsea Spectacular. We are delighted to be able to organise another event on Southsea Common."
Southern Bus Events is a group of bus preservationists who own their own buses and wish to give as many people as possible the opportunity to enjoy riding and seeing buses and coaches from a bygone age as well as the latest developments in public transport.
The Southsea Spectacular started in 1973 and ran until 2003 and at its height was one of the largest bus events in the country.
Full event and contact details are on the website: www.southernbusevents.co.uk