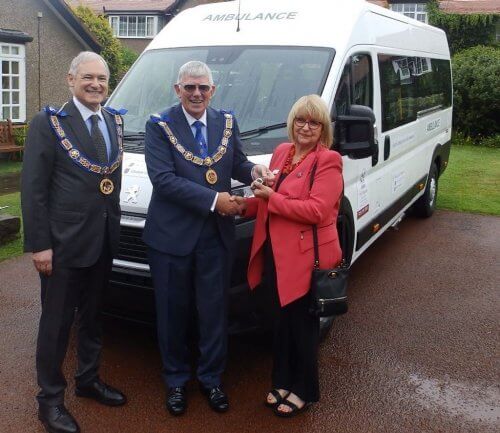 Stanford Coachworks has delivered a brand-new wheelchair accessible Peugeot Boxer to The Tithebarn care home in Liverpool.
The Tithebarn lies in the historic town of Crosby in Liverpool and is part of the Royal Masonic Benevolent Institution (RMBI). The RMBI cares for elderly members of the Masonic community providing them with a home for life, regardless of whether their financial circumstances ever change.
The Tithebarn approached Stanford Coachworks in the early months of 2019 in need of a wheelchair accessible vehicle that could double as an ambulance for their clients.
The brand-new vehicle is based on an extra-long wheelbase Peugeot Boxer 440 fully equipped with 6-speed manual transmission, a speed limiter and tachograph, and a Euro VI engine.
The base vehicle also includes some added extras such as satellite navigation and front and rear parking sensors. In the front cab area, Stanford Coachworks have reupholstered both the double cab passenger and driver seats. A driver screen has also been installed complete with a night blind.
A lockable storage space which houses the rear saloon air-conditioning unit has been included. The rear saloon includes seven M2 tested passenger seats, three of which are rearward facing fold up seats, the two positioned over the wheel arches are tip and fold and the last two are ordinary removable minibus seats.
Overall the vehicle can facilitate up to nine passengers plus the driver or two wheelchairs with seats removed. Each seat has been upholstered in a blue moquette material with wipe clean Ambla bases and lower back curve. The headlining, window surrounds and lower side panels have all been trimmed with a soft feel material.
All of the seats have been fitted with tracking on top of the M2 tested SCW floor which has been covered with an anti-slip material for the safety of The Tithebarn's clients. A luggage rack has been fitted to the offside of the rear saloon for the stowage of the client's personal items.
Entrance to the rear saloon can either be via a pedal operated manual side step fitted beneath the side load door or alternatively for wheelchair passengers via the new Braun Q Series tail lift situated at the rear of the vehicle. At the side load door Stanford's have installed two ascending handrails for assisted entry and exit, one of which forms into an upholstered modesty screen.
Stanford Coachworks' Northern-based Sales Manager, John Jennings, attended the handover to present Stephen Blank and Tony Harrison, the most senior Freemasons in both Cheshire and West Lancashire respectively, and Sylvia Short, the RMBI's senior trustee with their brand-new minibus.