On 11 August 20 years ago, the very first megabus service departed Oxford for London. Richard Sharman looks back at some of the milestones that made the company a household name in part one of our look at the blue and yellow brand
To the thousands of students that use megabus services every year, the blue-liveried coaches that operate the length and breadth of the United Kingdom probably feel like they have been there forever. But as megabus turns 20 years old this month, they can no longer be seen as the newcomer of the express coach service market. After all, they have been on the scene for two decades now, and in that time the company's customer base has grown hugely.
The trial period
If you know your Stagecoach Group history, you will know that co-founder Sir Brian Souter is no stranger to express coach operation. In fact, the main basis of Stagecoach in its early days in Perth was the provision of Scotland to London coach services using early Neoplan Skyliners, amongst other coaches.
At some point, in between his post-deregulation bus industry buying spree in the UK and taking the Stagecoach brand worldwide, there must have been an itch to get back into operating express coach services in Great Britain again. Ironically, many Stagecoach operating companies were already doing this in the early 1990s, but at that time it was under contract to National Express.
This carried on for a number of years, but on 19 January 2001 the website domain of megabus.com was purchased. In the period between that date and August 2003, one would assume that a huge amount of planning took place in order to set up the brand and decide which coach routes megabus would initially launch on.
It was an operation that for Stagecoach made total sense. It had depot facilities throughout the United Kingdom, it had the resources and most importantly, it had more than enough coaches within the group to commence operation.
Back on 4 August 2003, when the megabus.com website opened for business, Stagecoach was a very different operation to the DWS Group-owned business we see today. It was still a global player, and owned Hong Kong Citybus and Coach USA, and was also involved in a number of rail franchises.
That link to Hong Kong meant that it had access to the Citybus fleet, hence the appearance of Alexander-bodied tri-axle Leyland Olympian 94-seaters on its first trial route, the M40 between Oxford and London which began on on 11 August. This initially seemed like an odd choice, as the route was already covered by the high frequency Oxford Tube service that Stagecoach inherited with the purchase of Thames Transit.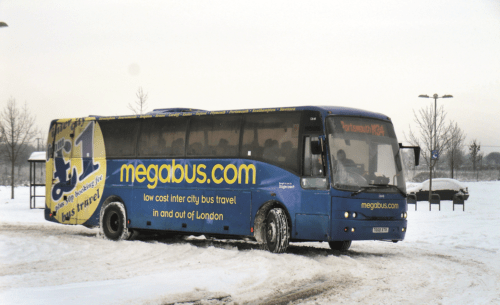 The main difference between the two services was that the M40 service departed from Oxford's Oxpens coach park, rather than Gloucester Green coach station, then took a different route out of the city, targeting university and college locations, before terminating at Gloucester Place in London. The initial service operated six times a day during the week, with additional departures at the weekends.
By the December of that year, the M40 service had carried 100,000 passengers and proved the concept. The megabus.com website had also received 250,000 hits by this stage.
It is also worth noting that ticket pricing at this point was £1, plus a 50p booking fee, for early bookers, with the price increasing for last-minute users.
A few weeks into the start of the operation, Oxford Bus Company, which also operated on the corridor, raised concerns with the local media that the newcomer may harm services between Oxford and London, but megabus marketing manager at the time David Whitley rebuffed these concerns by underlining the purpose of megabus: "It is very different from anything else being offered at the moment and we believe it will complement rather than undermine the existing coach services to London," he said. "The idea is to complement existing services. Both should continue to do well because they tap into different markets.
"The sort of people who travel on megabus.com will be different from Oxford Tube users. For a start there will be six services a day and seats are only bookable on the internet. There will be people who will still prefer to pay a bit more to be able to come back at any time on buses that run every 12 minutes from more locations. megabus will also open up opportunities to people who don't consider travelling to London at the moment."
Starting in Scotland
Just over a month later, Stagecoach launched its first service in Scotland. Seven services a day linked Perth and Dundee to Edinburgh and Glasgow; the Perth services were routed through the Broxden park & ride site, allowing drivers the convenience to park their cars for free, a facility still used today and which has developed into a major hub for the combined megabus and Citylink network. Meanwhile, a further 10 services a day operated on the Glasgow to Edinburgh corridor.
This was also the the first time the familiar megabus character was officially acknowledged, with his face dominating the rear of the livery; a Stagecoach press release named him the 'megadriver,' although we all know that later on he became 'megabus Sid'!
Stagecoach Chief Executive Brian Souter at the time said: "This is a totally new concept, a first for Scotland and it heralds a new era in low-cost inter-city bus travel. We've looked at the way the cheap airlines run their operations and we believe there is a big market out there that doesn't use the bus at present but can be attracted to our new product.
"We feel young people, and students in particular, will catch on to the service and the bargain-basement prices will be ideally suited to their budget. We also hope the low cost will encourage car drivers to switch to public transport and help ease congestion on our roads."
More English services followed in November, with Manchester residents able to travel to Liverpool and Leeds with the blue and yellow brand.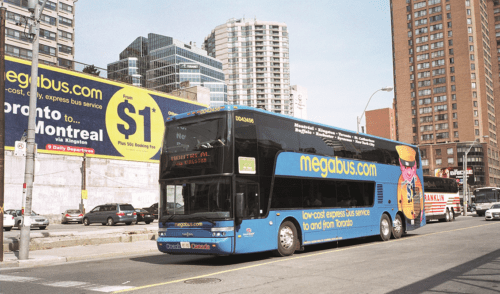 Rapid growth
Stagecoach considered the 2003 services as trials rather than a full-on launch. The ramp-up of destination options was announced in February 2004, when new routes radiating from London could be booked for departures from 1 March, serving Birmingham, Plymouth and Exeter, Swansea and Cardiff, Bristol, Bournemouth, Southampton, Portsmouth, and Brighton.
This expansion meant that megabus was very quickly becoming a well known brand, with its double-deckers now becoming a familiar sight on motorways throughout the United Kingdom. By October the UK's first web-based low-cost inter-city bus service had carried more than one million passengers. With this, Brian Souter pronounced megabus 'the transport phenomenon of the year' and added that 'the growth of the service has been amazing in such a short space of time.'
Stagecoach research showed that the megabus model was appealing to a wide customer base, including students, commuters, families and 'silver surfers' – over 55s who use the internet, if you'll excuse the very 2000s term! By this point, the network had easily mobilised the former Hong Kong Olympian fleet and had started to introduce 70-seat articulated coaches and luxury double-decker coaches. With many Stagecoach operating companies now coming off National Express work, additional coaches were given a makeover and pressed into service.
2004 was also the year that megabus won a major national award for innovation at the transport industry 'Oscars,' when it was named the most innovative transport project in the UK at the National Transport Awards.
US expansion
With the concept well and truly proven in the UK, Stagecoach quickly launched the megabus brand in the United States in 2006 through its Coach USA subsidiary. MCI coaches initially formed the mainstay of the fleet, but as the brand grew, Stagecoach invested heavily in new Van Hool double-decker coaches in 2011. The order, which was an investment of £40million for 95 coaches for services in the United States and Canada, followed more than 15 million passengers having travelled with megabus in North America alone and also coincided with the announcement of expansion into the southern part of the USA.
The 13-metre double-decker coaches, which met the latest Euro 5 emissions standards of the time, had 81 seats and were equipped with a toilet, power sockets, wi-fi and CCTV. More than 500 new jobs were created by megabus throughout North America, and the the blue and yellow brand grew to link 72 cities in the United States and Canada.
Moving into Europe
Having firmly established the brand in the UK and North America, Stagecoach announced in March 2012 that it was to expand operations to serve continental Europe, with services between Paris, Boulogne, Brussels and Amsterdam.
Whilst this was big news in itself, it was even more significant that the company was to offer services to Europe from Birmingham and Leicester, which travelled through Milton Keynes, Coventry and London en route. Stagecoach invested £2.5m in a fleet of 10 new 49-seater two-axle 12.2m, WiFi-equipped Plaxton Panther-bodied Volvo B9Rs. These services were operated from Stagecoach's Rugby depot.
Tickets sales started on 8 March 2012, with services commencing from 16 April. French and Dutch language websites trading in Euros were also launched. Things moved quickly in Europe, and by 21 October 2013 megabus expanded its network to run services in Germany for the first time, including a new link between London and Cologne.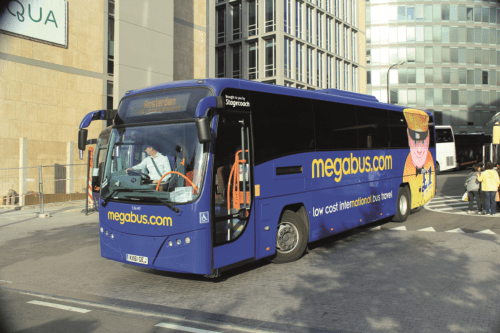 The new London to Cologne service, which also served Ghent and Brussels in Belgium, operated twice a day in each direction, with a total journey time of 10 hours 30 minutes. Also from October 21, passengers had the option of twice-daily services between London, Lille, Ghent, Antwerp, Rotterdam and Amsterdam, with journeys between London and Lille scheduled to take less than six hours.
A new fleet of 10 left-hand-drive 72-seat Van Hool coaches joined the fleet in the same year to operate on its network in Europe.
September 2014 saw the significant move of megabus creating 20 jobs with the establishment of a depot at Sint-Pieters-Leeuw in the province of Flemish Brabant, near Brussels. Six vehicles operated from the depot on daily services between Brussels and Rotterdam; routes from Brussels to Luxembourg and Lille were also served. These were all locations that had journey times of two to three hours from Brussels.
There were also five return journeys per day between Brussels and Paris, four return journeys between Brussels and Amsterdam, and four more between Brussels and Cologne. The new timetable also meant that Antwerp had a new link to Cologne for the first time, megabus operating one service a day in each direction.
By December, megabus had announced further expansion, with new domestic services being operated in Germany from the new Brussels depot. Services already operated between Brussels and Cologne, but an extension to the route allowed for domestic travel in Germany for the first time between Cologne, Frankfurt, Stuttgart and Munich.
By the year 2015, megabus had a significant presence in Europe with 150 destinations served, and that would only continue to grow as it launched services in Italy in June. The new services were launched by Italy's Deputy Minister of the Ministry of Infrastructure and Transport, Riccardo Nencini, at an event in Florence. The Italian network covered Rome, Milan, Florence, Venice, Naples, Turin, Bologna, Verona, Padua, Siena, Genoa, Sarzana (La Spezia) and Pisa.
This Italian expansion lead to the opening of further depots in Europe; 45 jobs were initially created at a new operating base near Milan. The company also opened a second crew base in Florence, with offices in the city's Santa Maria Novella area, where over 50 staff were located. A fleet of 23 Van Hool Astromega coaches – representing an investment of more than €11m – were also delivered for the new services.
In August 2015, new legislation in France that allowed international operators to offer domestic services was passed, opening up further opportunities for megabus. Existing international routes were quickly joined by nine domestic routes serving Mulhouse, Lyon, Avignon, Montpellier, Perpignan and Avignon. This saw the opening of another European depot in Belleville-sur-Saône, north of Lyon, creating a further 35 jobs. A fleet of Higer Touring-bodied Scania coaches, numbered 55101-28, was purchased for the additional work.
Further expansion came in November when eight new locations were added to the French network – Bordeaux, Poitiers, Rennes, Nantes, Le Mans, Tours, Angers and Chatellerault. A new operating base in Bordeaux was established, as well as a crew base in Nantes, creating employment for a further 50 staff.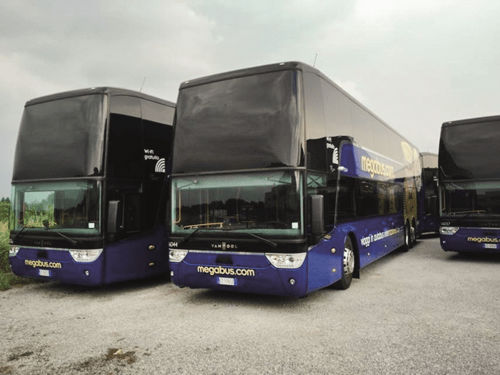 Changes to ownership
Having built the European business up to a good size operation, Stagecoach announced in June 2016 that it was going to sell the retail operations of its megabus Europe business to rival operator FlixMobility GmbH, more commonly known as FlixBus.
Only the megabus retailing operations involving mainland Europe were part of the agreed sale. The retailing activities involved the timetabling, co-ordination and marketing of services, as well as the pricing and sale of journeys. Stagecoach continued to operate a number of European inter-city coach services as a contractor to FlixBus initially.
At the time of the announcement, a Stagecoach spokesperson told CBW: "FlixBus has the rights to use the megabus.com brand in Europe should they choose to, but that will be a decision for them. Our operating bases in mainland Europe are continuing to run as normal as we are still running our existing network. However, we are now doing it on behalf of FlixBus. Ultimately it will be up to FlixBus to decide what that network looks like over the longer term."
Commenting on why the retail operations were sold, the spokesperson added: "We built up a good footprint and recognised brand within mainland Europe over a short space of time. We have always been clear that there would be consolidation in the inter-city coach market in Europe, which has continued to be a highly-competitive environment.
"Against that background, we undertook a review of the strategic options for megabus to decide on the best way forward for our business. We concluded that a sale of the retailing part of the megabus Europe business would realise value from our investment. We are pleased that we will continue to operate European inter-city coach services as a contractor to FlixBus."
Whilst FlixBus may have had the rights to use the megabus.com name at the time, it quickly moved to rebrand existing vehicles to its green and orange house colours. It is also worth mentioning that back in 2016, FlixBus had not entered the UK market, and was not in competition with Stagecoach's domestic UK operations.
Whilst the European operations were sold and ultimately stopped operating under contract to FlixBus not long after, fast forward to April 2019 and Stagecoach announced that it was to sell its Coach USA operations to Los Angeles-based private equity firm Variant Equity. The cash generated from the sale was used to reduce the group's debt; together, the group's Coach USA and Coach Canada operations formed one of the largest passenger transport companies in North America, incorporating more than 29 local carriers, with more than 4,500 employees and approximately 2,200 coaches and buses.
In the USA, megabus continues to operate as a division of Coach USA, and in 2022 announced a large number of partnerships with third party operators to increase its network and options for customers. Whilst this might have been the end of Stagecoach-owned operations in Europe and the USA, interesting developments were still happening in the UK; watch out for part two of this feature in a couple of weeks' time to find out more…