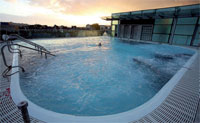 Thermae Bath Spa offers a group rate on Mondays to Thursdays.
The spa houses two separate baths, the New Royal Bath and the historic Cross bath. A 10% group discount is available for groups of eight – 15 on spa session bookings in the New Royal Bath. The Cross Bath can be booked for the exclusive use of a group as large as 12, at a cost of £150.
The New Royal Bath is a fusion of glass, stone, light and water, creating a unique environment where a 2, 4 hour or full-day spa session can be enjoyed.
The bath features an open-air rooftop pool with views of the surrounding city and hills, and steam rooms infused with oils such as eucalyptus or frankincense.
The Minerva Bath uses a massage jet, whirlpool and gentle currents in combination with the building's flowing architecture to provide an invigorating experience.
The standalone Cross Bath provides an intimate setting framed by Georgian architecture. A visit can be made complete with a buffet or champagne reception.
Visit www.thermaebathspa.com/treatments/offers/ or call 0844 888 0844 for more information about the spa