Ticketer has announced a record-time rollout of its new contactless ETMs across Arriva's UK fleet of 3,500 buses in six months.
The new Ticketer ETMs now accept QR codes, mTickets, Apple Pay and Android Pay, as well as contactless payments, facilitated by Arriva's contactless partner Littlepay.
The new Ticketer ETMs will provide Arriva with essential information on bus usage, which will in turn enable the operator to respond to changes in demand.
The data will also enable Arriva to drive RTI systems and its app. The back office additionally provides real-time information about transactions and bus locations, as well as enabling managers to send important messages to drivers through the portal, while the Schedule Adherence feature will help keep services running to timetable.
Speaking about the rollout, Neil Shah, Digital and Commercial Platforms Director – Arriva UK Bus said: "It's no good turning up to a depot, installing some technology and leaving behind a manual. You have to engage with the people who are going to use the tech on a daily basis.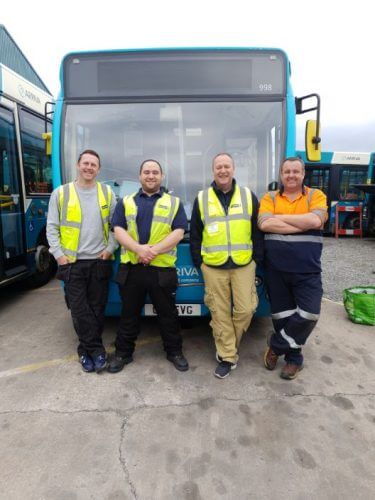 "We prepped thoroughly, created depot launch packs and appointed a contactless champion at every depot so that colleagues could access support before, during and after the units were fitted.
This has been a huge team effort and involved colleagues from multiple businesses working together to deliver a complicated and fast-paced rollout.
"We also put a big focus on engaging the public, partnering with local authorities and politicians to launch contactless to local communities.
"The secretary of state for Business and Energy, Greg Clarke MP, even joined us when we rolled out the first machines in Tunbridge Wells.
"The take-up from customers has outperformed expectations and their feedback on social media tells us they really value the introduction of the new ticket machines."
John Clarfelt, Managing Director of Ticketer, commented: "It's fair to say that this has been our most challenging rollout due to the short timeframe, but we completed every depot on time without a single delay or change from the agreed plan.
"We could not have completed this massive project in record time without the invaluable support, teamwork and collaboration across our business, and indeed all the businesses involved."
He continued: "The two pilot schemes were designed for us to work closely with Arriva in order to create a seamless plan for the record-breaking installation across the group.
"We adapted the programme to Arriva's specific requirements and worked as a single team to manage the entire project in conjunction with our installers, Mobile Valley."