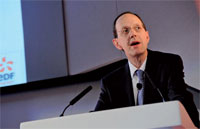 The CBI is urging chancellor George Osbourne to stick to current deficit reduction plans in his autumn statement and consider specific measures to kick-start growth by unlocking private sector investment and removing "road blocks".
Continued uncertainty in the Eurozone, and the resulting weaker prospects for exports and investment have led to a marked drop in business and consumer confidence, and as a result the CBI has revised down its forecast for the UK economy. The CBI now expects GDP growth to be 0.9% in 2011 and 1.2% in 2012, down from 1.3% and 2.2% respectively.
In its latest quarterly economic forecast, the CBI predicts unemployment will continue rising next year, peaking at 2.75m in Q4 2012. Given the weaker prospects for domestic growth, the CBI expects interest rates will remain at their historic low of 0.5% throughout 2012, and start edging upwards only from 2013.
Ahead of Chancellor George Osbourne's autumn statement, the CBI is urging the government to consider a range of measures to help kick-start growth, at little extra cost to the exchequer. Its proposals range from actions to boost investment in infrastructure, stimulate the housing market and improve the roads, to supporting energy intensive industries, reforming the electricity markets and tackling youth unemployment.
John Cridland, CBI director general, said: "The government must stick to its plans to bring down the deficit to maintain confidence in the UK's public finances and keep the cost of borrowing down, but now is the time to revitalise its growth strategy and create a "Plan A plus".
"In uncertain economic times, confidence falters, investment grinds to a halt and job opportunities fade.
"This package of measures taken together could make a real difference to the economy, creating jobs and boosting growth in the years ahead."