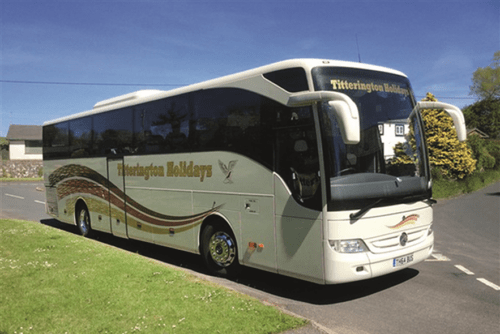 The third-generation family firm will close at the start of 2024 when its owners retire
Family-run coach operator Titterington Holidays is to close its doors in the new year when its owners, brothers Ian, Paul and Colin Titterington will retire. The coach and holiday business was set up by their grandfather 97 years ago. The firm's last trip will be a tour to Inverness for Hogmanay.
Colin told the Cumberland & Westmorland Herald that with their ages in mind, now was the right time for them to retire. "It's been a pleasure working for the family firm, from us all starting as drivers and all of us having got our passenger vehicle licences," he said. "The loyalty we have had from our customers has been amazing, it really has. As soon as the brochure comes out, many of them have booked several tours with us every year. It's a shame that we don't have any succession to carry on the business, but the decision has just come at the right time for us. Between us we have done about 135 years."
Colin added that he remembers being three years old and helping his grandfather, Ernest, wash coaches, and that the company has always played a major part in their lives. "Nothing is finite and there has to be an end point, and all three of us have grown-up children but they all have their own careers," he continued. "We've easily had tens of thousands of customers and we've had quite a few phone calls from people who are upset that we are going. A lot of them have made friends with other people on a tour. We do get a lot of single travellers who will make friends and then start going on tours together, so it's a community.
"The brand loyalty has remained very high and our numbers have remained very good. We have got 20 tours left to run this year and only two of those have vacancies and there will be no more tours after 2 January."
Lesley Allison, who has worked for the company for 12 years, told the newspaper: "This has been my ideal job. Before, I had always worked for large, national companies, so to find a family-based independent company, where people come to you because you are selling products to those who want a holiday, has made it a very happy job. Over the years, you build relationships with regular customers and they have become friends, rather than clients."
Humble beginnings
The company was founded in 1926 by Ernest Titterington, the son of a local gamekeeper, after he decided on a change of direction. Ernest bought a second-hand 20-seater Star bus to run a local market day service to Penrith. When not in use as a bus, the body could be removed from the chassis and replaced with a cattle wagon body, allowing a greater variety of work to be carried out with a single vehicle.
The outbreak of World War II brought about the next major development in the company with extra business in the form of contracts to provide transport for locally based soldiers, prisoners of war and evacuees. In addition the popularity of the cinema during the war years meant that a Saturday night service to the Penrith Alhambra was a popular one.
Ernest was joined in the company by his son Gordon in the 1950s, a time when many of the Sunday School outings or village trips that had been restricted to Silloth on the Solway Coast or the Lake District were starting to venture further afield to places such as Morecambe or Blackpool.
1965 saw the first trip abroad by a Titterington coach, carrying a party of children from the local grammar school to Germany. The 1970s saw the steady expansion of the company, and in 1980 Titterington Holidays was established to provide coach holidays throughout Europe.
The company's fleet grew to 18 vehicles, offering a range of holidays from a traditional mystery break to a 14 day tour of Europe. Titterington Groups was established to offer holidays and short breaks for groups, clubs and societies.
The firm's premises in Corn Market, Penrith, will close, as will its garage at Blencow, where mum Sheila still lives. At its peak, the business, which now employs 10 people, was carrying out up to 300 holidays per year across the UK and Europe.