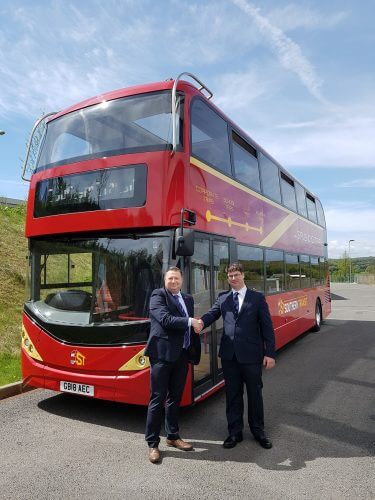 The pair of double-deckers will be used on new 'Splendid Trips' service, offering high capacity excursions
Southern Transit of West Sussex has introduced two high-specification Alexander Dennis Ltd (ADL) Enviro400 City buses to its highly varied fleet.
After acquiring the business 10 years ago, Proprietor Neil Bird described the new double- deckers as 'the start of the next chapter,' as he attempts to create and exploit a niche market for high capacity excursion vehicles.
He commented: "We have spent 10 gruelling years steering the business in the right direction and progressively establishing a reputation for exceptional customer service, whether it be for private hires, school contracts, corporate events, rail replacement work or operating public service routes across West and East Sussex.
"Part of our modus operandi is that we offer affordable, high performance coaches and buses alongside a range of iconic, historic vehicles, and that approach is endorsed today with the introduction of our new Enviro400s.
"There is a definite gap in the market for modern, yet stylish eco-friendly buses that offer luxury, high capacity and are ahead of their time.
"To exploit this opportunity to the full, we are also launching a new marketing initiative today under the banner of 'Splendid Trips' which will promote our new focus on private hires to London and across the southern counties.
"As part of this effort, we will also be branding our new double-deckers as 'Citymaster' vehicles, again combining traditional and modern."
The specification of the new vehicles is very high, with the new additions incorporating:
• WiFi and USB charging points at all 72 passenger seats, along with wireless bell pushes;
• Glazed stairwells with illuminated glass, along with LED lights at staircase steps, panoramic windows and sky view glazing on the upper deck. The upper deck has no seat-to-roof hand poles on the upper deck to maintain clear lines of vision. These are replaced with hand grips built into the seat backs.
• High back seats with three-point seatbelts and a London Routemaster tartan trim on all seats. Four centrally located meeting tables are on the upper deck, and under-seat lighting has been included;
• Passenger information systems linked to 19" screens;
• Two-tone wood effect flooring throughout; and
• Disabled access, including a wheelchair space and vehicle lowering system.
Martin Brailey, ADL's Sales Director for London and the South, commented: "We are delighted to be working with Southern Transit on this breakthrough project.
"Passengers today are unquestionably more demanding. They want luxury, innovative design, the very latest in technology, and a passenger experience that is second to none.
"Southern Transit has raised the bar with the specification they have determined for their new Enviro400 City vehicles. They are bristling with design innovation and forefront technology and, put simply, are among the most advanced, low emission, two-axle double decks in the world.
"There is growing evidence of real business opportunities for those prepared to invest in class-leading, high capacity buses that set the pace in terms of passenger numbers, comfort and vehicle performance, and I'm sure Southern Transit will reap the rewards.
"This is a very significant investment by Neil Bird and his team, and is also the ideal vehicle upon which to launch their exciting 'Splendid Trips' business venture. We wish them well."