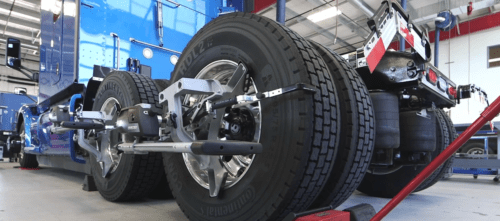 Commercial vehicle operators will be able to benefit from the expanded range offered by the specialist workshop equipment provider
Workshop equipment specialist Totalkare has announced a new partnership with manufacturer of wheel alignment and balancing technology Hunter Engineering Company which sees the Totalkare become a distributor of Hunter's heavy-duty wheel alignment equipment in the UK, bringing a trio of new products to the commercial vehicle maintenance industry.
At the heart of the partnership, says Totalkare, is Hunter's Heavy Duty Wheel Alignment system, which it says is a 'game-changer' for fleet operators and maintenance professionals when it comes to the precise alignment of heavy-duty vehicles. Its sensors and software enable accurate measurement and adjustment of wheel alignment parameters, the firm says, significantly enhancing vehicle safety, tyre longevity, and fuel efficiency, minimising downtime and costly repairs.
Alongside the wheel alignment system, Totalkare is also introducing Hunter's Heavy-Duty Quick Check vehicle inspection system that has been designed to stramline the assessment process for commercial vehicles. It provides a comprehensive overview of a vehicle's alignment, tyre condition, and brake performance in minutes, and has been designed to increase efficiency and reduce maintenance costs by allowing fleet operators to identify potential issues before they escalate, ultimately improving vehicle reliability and reducing operational downtime.
Product Manager at Totalkare Tristan Johnston underscored the significance of wheel alignment for commercial fleet operators: "Wheel alignment is a critical aspect of vehicle maintenance that directly impacts safety, fuel efficiency, and overall vehicle performance. We are excited to partner with Hunter Engineering Company to offer our customers the best in heavy-duty wheel alignment and balancing solutions. This collaboration underscores our dedication to providing comprehensive solutions to our clients."