Yinka Jan Sojinu reports from the Dutch OV Expo '21 public transport exhibition
After a long-lasting period of restrictions, and despite the cancellation of Busworld Brussels' 50th anniversary event, the dedicated Dutch OV Expo '21 public transport trade show was able to take place on 16 September in the centrally-located town of Houten. The modest-sized but successful event was predominantly attended by local suppliers and counted 18 stands, three displaying buses, and was attended by some 400 visitors.
The main highlights could be seen on the stands of the Netherlands' two main rival bus brands; VDL and Ebusco, which are currently in the process of starting up their separate, local mass production lines, for the Ebusco 3.0 which was on display and VDL's New Generation Citea, which was absent from the event, and which both promise to be convincingly competitive.
In that light, Ebusco's Marketing Manager Rob Stevens and the 3.0's designers Steven Kessels and British-born James Granger pointed out that their award-winning unique aviation-inspired body design distinguishes itself from its competitors by way of its lightweight composite construction. This allows the 3.0 to offer an impressive claimed range of up to 357 miles (575km), low-maintenance costs and an estimated 25-year lifespan, they said.
VDL's responding and diligently restyled, modernised New Generation Citea, which features one-piece lightweight composite side walls, offers an extra-high capacity of 110 passengers in a 12.2-metre version, comes in four lengths and five variants and has a range of up to 310 to 372 miles (500 to 600km), reducing to around 155 miles (250km) in harsh winter conditions, could give the Ebusco some sound competition.
Both buses will have the opportunity to prove themselves in the upcoming year, when some 39 Ebusco 3.0s enter into service around the Dutch city of Hilversum, and the delivery of 32 New Generation Citea LF-122s begins in the company's home city of Eindhoven, while an additional 25 LE-122s will find their way into the Finish port city of Kotka during 2023.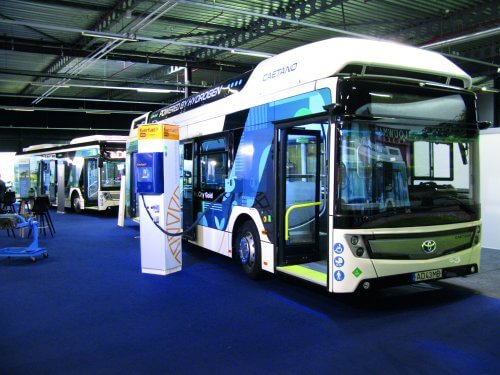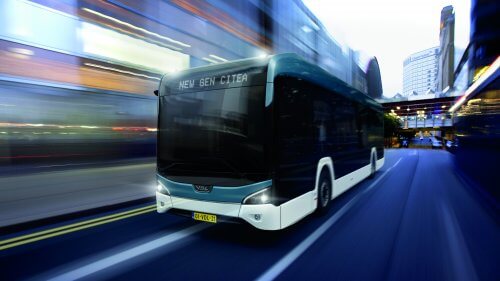 At present however, neither of the two companies could yet confirm whether these new models will be introduced in the UK as well, but the fact that the Ebusco 2.2, which is assembled in Xiamen, China is now in the course of becoming available for the Australian and therefore potentially UK, markets, could yet be beneficial.
In terms of logistics, VDL remarkably announced to convert it's northern Heerenveen plant, into a mobile housing modules factory, shifting all coach and bus production to its remaining Dutch (Valkenswaard) and Belgian (Roeselare, ex-Jonckheere) facilities. This means that within the next year, all domestic Dutch coach and bus production sites (VDL and its in Deurne-based competitor Ebusco) will then be situated within a 22 mile range from the city of Eindhoven.
The absent but remaining major Benelux-based coach and bus builder, Van Hool, is soon to present a new range of A12 and A13 fuel cell and battery-electric inter-city service buses, of which several have already been ordered in Denmark, France, Germany and Belgium itself. At the same time the company continues to be the largest European coach supplier in the USA, and plans to complement its current Belgian factory at Koningshooikt (Lier) and northern-Macedonian Skopje production plants, with a new factory in Morristown, Tennessee by the year 2025.
Besides these bus manufacturers, and the country's attractively-displayed debut of the Portuguese Caetano Toyota-powered 'all-weather steady' hydrogen fuel cell-electric H2 City Gold and it's battery-electric e.City Gold counterpart, OV Expo '21 offered lots to see and discover in terms of component suppliers as well.
Locally based, but globally exporting Ventura Systems promoted its new LED-lit sliding plug doors, with edges which turn green whenever it's safe to board or exit, and change to flashing red when that door is about to be closed. Additional interesting developments by this company included an automatic wheelchair ramp, now on trial in Japan, as well as data-collecting doors that can predict maintenance needs, and thus prevent potential failures, as Ventura's attending Co-owner Bas de Nooijer, revealed.
No less interesting were the innovative unveilings of several interior gadgets, such as the ergonomic automatic height-adjustable and memory driver's seat by Trône Seating which uses a memory card or smartphone; one of, if not the, first kind of pandemic-inspired invisible disinfecting 'bioguard' bus seat fabrics by Belgian manufacturer Buvetex, and; the wireless phone chargers on the back of German seat maker Kiel's passenger seats.
Finally, German-based ZF displayed an interesting open model of its CeTrax electric central drive motor, and Dutch high power rapid charger producer Heliox created interest by mentioning the fact that it is (together with First Bus) about to create the UK's largest EV charging hub in Glasgow, which is expected to be completed during summer 2023 at the firm's Caledonia bus depot.