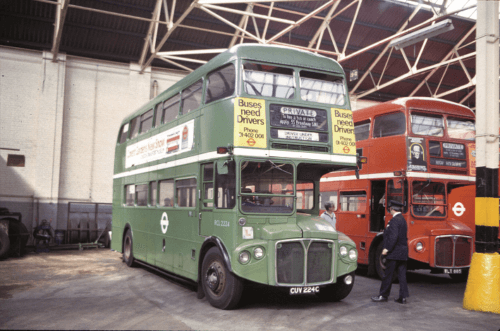 Alan Payling remembers his early days with London Transport and pays tribute to one of the unsung heroes of the industry – his driving instructor

Do you remember who it was that taught you to drive a PSV and helped you get your PCV licence? My own memory was jogged when I read a piece in CBW issue 1540 about Ian Robertson of Stagecoach in Manchester, who has worked in the industry for 55 years. It was when I saw that Ian had spent 19 years as a driver trainer that I took a trip down memory lane, going back to 1981 when a great PSV driving instructor changed the course of my life.

In early 1981 I had moved once again to London from the West Midlands in search of work as an HGV driver because there was a deep recession at the time, with some 3 million people unemployed. Having just been laid off, before I headed south I had contacted dozens of hauliers in the West Midlands to no avail. Most didn't reply to my letters. But one rejection letter I did receive summed up what wasn't happening or going to happen for me. It was from Morton's BRS in Coventry and said: 'Unfortunately we have no vacancies at the moment, or in the foreseeable future, due to the general slump in transport.'

While those companies that did reply to my queries about work said they would keep my letter on file, it seemed like London was where I was going to find employment. Once I moved, having rented a room in a shared house in Hackney, N16 for £10.00 a week, for a few months I picked up bits and pieces as an HGV driver but nothing long term. However, the elections for the Greater London Council (GLC) in May 1981 saw a change of political leadership at County Hall. As the GLC called the financial shots with London Transport at that time, the existing freeze on recruitment to the bus section was lifted. I duly applied to be a London bus driver and on Thursday July 9th found myself at Manor House, the HQ for London Transport's Leaside bus district. I had a maths test, an intelligence test, a comprehension test and an eye test. I also had a short driving assessment. I went outside with an LT official and being presented with a big red Routemaster sat by the kerb, I was invited to 'jump in son so we can have a look at you. Let's see what you can do.' I recall that it seemed a bit like I was clambering up into a very small, cosy but basic darkroom. But once I pulled the starter switch and the engine came to life, I felt I was right at home sitting next to a big diesel once again. When the red flag went up, I put the bus into gear, took the handbrake off and the bus slowly trundled along Seven Sisters Road. It took a few minutes to get used to this big lumbering machine. But it didn't take long. Having worked as an agency driver, I had driven a wide variety of vehicles. I was used to jumping into all sorts of commercial vehicles, large and small, and driving smoothly out of the respective yard. So I felt very much at home in that Routemaster as I quickly got the feel of her and how 'light' she was. The official sat behind me seemed happy anyway.

[…]

By subscribing you will benefit from:
Operator & Supplier Profiles
Face-to-Face Interviews
Lastest News
Test Drives and Reviews
Legal Updates
Route Focus
Industry Insider Opinions
Passenger Perspective
Vehicle Launches
and much more!