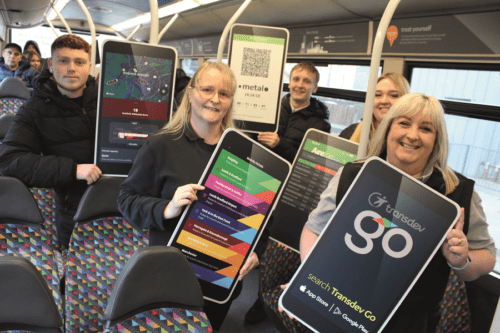 Transdev says the number of people using its Transdev Go app on mobile devices to track their bus, check for available seats and buy tickets before boarding has doubled in the last 18 months, and for the first time over 100,000 people a month are now using it. The firms said data shows that across its whole network, one in five of its customers are using tickets bought on the app, rising to four out of 10 in some locations.
Numbers using the app to buy before they board are expected to rise further, the firm says, as the current £2 fare for any single journey at any time on any bus is available to buy instantly. Transdev Commercial Manager Matt Burley said: We're delighted that so many of our customers are discovering how easy it is to use our app to plan a journey and buy a ticket before boarding their bus. Since we began offering our £2 ticket on the app – the first time a single fare has been available to buy this way – almost a third of all single tickets are now bought through Transdev Go.
"Our customers clearly enjoy the convenience of being able to buy a £2 ticket instantly without having to fumble for change – and it helps our buses to run on time by greatly reducing the time it takes for everyone to board."
Transdev says that on average, nearly £1 million worth of tickets are being sold on the app every month – and over half of all its seven-day tickets are bought instantly using Transdev Go.