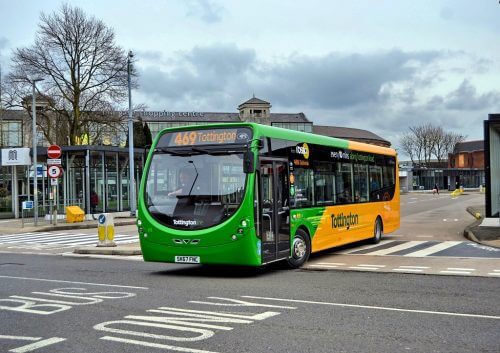 First stages of £3m investment are implemented, with three new Wrightbus StreetLites entering service
Transdev has started implementing the first elements of the £3m investment it promised for its Lancashire operations after it acquired Rosso in December – with new vehicles joining the fleet and others benefitting from refurbishment.
A trio of distinctively-branded Wrightbus StreetLites has entered service in Bury on the re-launched Tottington Line, formerly route 469, which connects Tottington with Bury.
Matt Harrison, Marketing and Communications Assistant at Transdev Blazefield, told CBW: "The vehicles comprise two new 67-plates, which were Wrightbus dealer stock. We've had them fitted with USB power sockets and our signature Blazefield moquette.
"The third vehicle is a former Burnley example revitalised to matching specification. We're grateful for the support of James Frith MP (Labour, Bury North), who attended the launch event at the world famous Bury Market.
"Operating on a 10-minute frequency, the vehicles are the first three Rosso buses to feature the latest variant of Ticketer's machine, which offers contactless payment."
Another change which took effect over the weekend of April 6-8 was the closure of Rosso's depot in Haslingden.
"As part of the conditions of sale, Rossendale Borough Council retained the site as part of their commercial investment strategy," explained Matt.
"Vehicles and staff have been transferred to our other depots in Blackburn, Burnley and Rochdale. No driver jobs have been lost – we went through a staff consultation process, offering a choice of work places following the closure. Over 90% got their first choice of location, and we worked closely with the small number who did not to find a positive solution."
Matt was keen to stress: "Rosso remains a distinct operation, but with vehicles and staff sharing homes at Transdev's existing depots in Lancashire."
Forthcoming elements of the £3m investment include the reallocation of the StreetLite fleet from Burnley to Rosso, where they will join other refreshed former Rosso examples after refurbishment and re-branding. Interurban route 464, which links Accrington, Rawtenstall, Bacup and Rochdale is receive new buses too – further details of which will be revealed in due course.