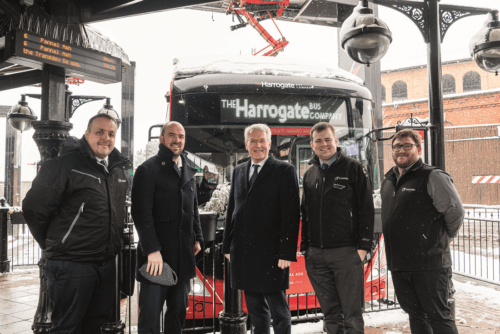 Buses Minister Richard Holden was welcomed to Yorkshire despite the recent inclement weather for a tour of Transdev's Harrogate base, seeing for himself behind the scenes as the company kept passengers moving following heavy snowfall. Minister Holden, who was accompanied by Harrogate and Knaresborough MP Andrew Jones, visited Transdev's Academy training centre, before travelling on a Harrogate Electrics bus to the town's bus station to meet staff and visit their recently upgraded welfare facilities.
In the absence of CEO Alex Hornby, the Minister was welcomed to the operator's headquarters by Operations Director Vitto Pizzuti, Training Manager Dale French and Commercial Manager Matt Burley.
During his tour of the Academy, he spoke with trainee drivers about their reasons for choosing the transport industry and Transdev, and the process they go through to become bus drivers. The Minister met younger recruits starting out in the bus industry, as well as older new-starters taking up bus driving as a change of career.
Operations Director Vitto said: "We're delighted to have welcomed the Buses Minister, who saw for himself the lengths we go to during wintry weather to keep our buses on the road serving our customers. The Minister was also impressed to learn of the success of our Government-supported £2 Price Drop, which has helped us to attract record numbers of motorists to leave their car keys at home and choose the bus instead.
"Fare-paying customer numbers are now at 96% of 2019 levels, and on Friday 3 February we saw our busiest day ever, with 131,000 customers travelling on our network on just one day. We've also seen numbers travelling on Coastliner rise by 75%, and on the 36 linking Harrogate with Leeds and Ripon by 11%, as the £2 cap on single fares continues to prove popular."
Minister Holden said: "Having invested more than £2 billion to support bus services since the pandemic, it's fantastic to see so many people using the bus here in Harrogate. Our £2 bus fare cap is helping to turbocharge the return of passengers, and we will continue to work hard with local authorities and operators like Transdev to get even more people to hop back onto the bus."
During his visit to Harrogate Bus Station, the Minister met duty managers Simon Bolland and Dawn Thompson. He was also briefed on progress towards the introduction of 71 fully electric buses across Transdev's Yorkshire networks, in a jointly funded programme over the next three years which will see the operator's entire Harrogate-based fleet replaced by new electric vehicles.