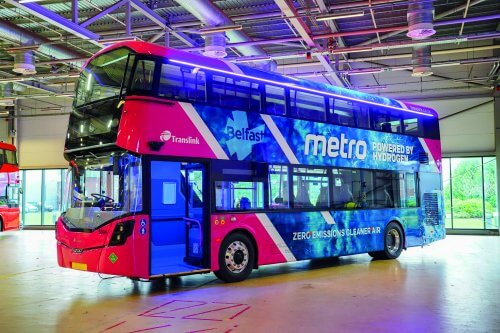 Translink has signed the Climate Action Pledge NI, as well as receiving two accolades for its social value.
The Northern Irish operator has signed up to the Climate Action Pledge, which is a public commitment to achieving a target of reducing its greenhouse gas emissions by 50% by 2030. The operator explained that the pledge is a driver for business to take action on the climate emergency, and will see it working alongside other companies towards creating a more liveable future and limiting the increase in global temperatures to well below 2°C.
By signing the Climate Action Pledge and striving to reach its greenhouse gas reduction targets, Translink said it joins other Northern Ireland organisations in demonstrating their commitment and willingness to collaborate to address this critical issue.
The operator also recently received two top awards at the National Social Value Awards 2021 for its delivery of social value activity around the development of the Belfast Transport Hub project.
The two awards presented were a 'Highly Commended' for Social Value in Development and a 'Commended' for Social Innovation.
Translink said the Social Value judging panel was impressed with its commitment to local communities at the statutory consultation phase of the project and for leaving a procurement legacy in the themes of Skills and Employment provision; Arts and Heritage; and voluntary contributions to community projects.
The judging panel also highlighted Translink's delivery of social value in advance of the introduction of relevant legislation in Northern Ireland, which has been in place elsewhere in the UK for some time.
Translink Group CEO, Chris Conway said: "We're delighted to receive this industry recognition, especially given the stiff competition from elsewhere. We are committed to supporting vibrant communities and it is our aim through our social value journey to make a positive lasting legacy on the communities surrounding the new Transport Hub.
"Public transport and the Belfast Transport Hub will have a key role to play in a 'green' recovery for both Belfast and Northern Ireland, so to receive these awards gives us great confidence that our approach and delivery is viewed as national best practice.
"I'd like to pay tribute to the Translink team, our partners in Belfast City Council and most importantly our local communities for this collective success."