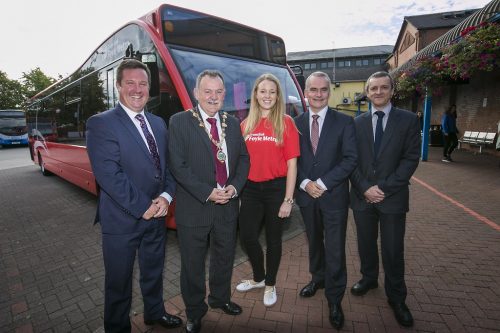 Translink has launched its Foyle Metro service in Derry-Londonderry with an Optare fleet.
The service will operating across 14 bus corridors on a simplified route network, and features a new-look red bus fleet, consisting of 16 11.7m Euro 6 Optare Versas and a trio of 9.2m Optare Solos.
Translink said the new service will boost connectivity, providing a frequent, reliable, comfortable and affordable way to travel. As part of the launch celebrations, a special £2 all-day ticket (child £1) is available throughout September.
The fleet of 19 new buses represents an investment of over £3m. A further 20 refurbished buses will be used on the services.
Seven Scania Solars have been repainted and re-trimmed for the Foyle Metro fleet, along with eight Wrightbus Gemini-bodied Volvos. Two additional double-deckers with all-over livery (Translink's Foyle Legends bus and another with a full advertisement wrapping) have had their fronts painted in Foyle Metro livery.