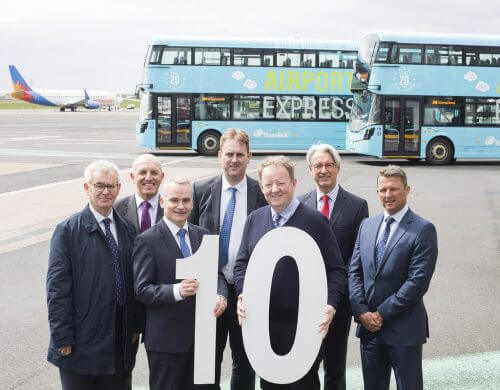 Fleet of 10 Wrightbus Gemini 3 buses will replace all vehicles previously used on the service
Translink has invested £2.3m in fleet of 10 new buses for its Airport Express 300 services to Belfast International Airport.
The new high-spec Wrightbus Gemini 3-bodied Volvo B5TLs are being phased in to replace all the existing vehicles operating on the route.
Chris Conway, Translink Group Chief Executive, said: "This is great news for customers going to and from Belfast International Airport.
"Numbers have 'taken off' in recent years with an increase of 25% in the last year – we now carry over 500k passengers every year.
"We are looking forward to enhancing their overall journey experience with high levels of comfort and new features such as leather seats, USB charging points, free WiFi, audio visual displays with next stop announcements, dedicated space for wheelchairs and extra space for up to two buggies.
"There is also a panoramic upper deck area at the front.
"We have worked closely with Belfast International Airport, Visit Belfast and Tourism NI to develop the service. All our Airport Express drivers have received World Host training as we know the Airport is an important gateway to Northern Ireland. With 2.3 million visitors to NI every year and more expected as we host more and more major events and conferences, we want to exceed customer expectations and play our part in the global appeal of our region.
"The modern new vehicles will also be among the most fuel efficient and eco-friendly buses operating in Northern Ireland, helping to improve local air quality."
Graham Keddie, Managing Director of Belfast International Airport, commented: "We anticipate a record 5.6 million passengers through Belfast International Airport this year and I hope to see many of these people enjoying these frequent new state-of-the-art Express bus services."
Mary-Jo McCanny, Visit Belfast's Visitor Servicing Director, said: "First impressions really count, so it's great to see Translink taking the lead in offering a top-class airport transfer solution that will enhance the visitor experience right from the moment of arrival.
"With increasing numbers of visitors coming to Belfast each year, an effective and user-friendly public transport system is an increasingly important element of our tourism industry, so we are committed to working with Translink to continuously enhance and improve our visitor offering."
John McGrillen, Tourism NI Chief Executive, added: "Northern Ireland now attracts more visitors than the resident population and this is a trend we expect will continue as we gain global acclaim as a 'must see' destination.
"I welcome Translink's investment in this important aspect of the visitor journey and their commitment to the World Host training initiative which will make it easier for the influx of business and leisure visitors to access everything Belfast and the region has to offer."