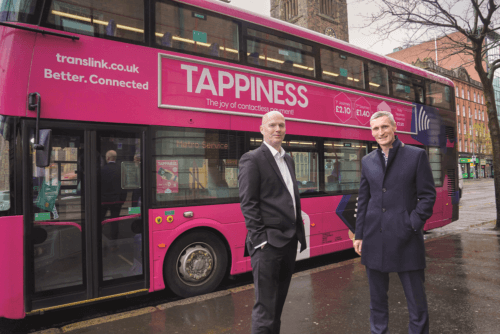 Translink has completed what it said is a significant milestone in the rollout of a national account-based ticketing (ABT) system covering Northern Ireland. Passengers using the Translink Metro bus network in Belfast are benefiting from contactless payment technology as part of the operator's Future Ticketing System, which has been developed in partnership with transport ticketing and payments specialists Flowbird.
In time, the new contactless ticketing architecture will provide integrated and seamless multimodal travel for citizens across Northern Ireland, creating the UK's largest multimodal ABT system outside London. Passengers on Translink Metro's 270 Belfast buses are the first to experience Open Payments ABT in the city, with contactless bank cards acting as both a ticket and payment method for a flat single fare. Frequent travellers will also benefit from a £3.50 daily fare cap.
Chief Financial Officer at Translink Paddy Anderson said: "This rollout reflects just one exciting step in the range of plans we have to improve customer experience and shorten journey times for everyone on-board. We endeavour to provide our customers with the best possible service and are encouraging more people to benefit from this latest travel payment option.
"Ultimately, our ambition of enabling passengers to simply turn up, tap on and travel knowing they have been availed of the best value fare. Our customers will not only enjoy the convenience and simplicity of making contactless payments but, at a time when the cost of living is escalating, they can also easily view their transaction and payment history online, checking the savings they've made via the daily capped contactless fare."
In addition to contactless payments, the new system also continues to accept Translink's fare-paying and concessionary smartcards, offering passengers a choice of payment methods and ensuring access to transport services for children and customers who cannot use a bank card.
"This is an important milestone in the development of a nationwide ABT system that will evolve to include Ulsterbus, Glider BRT and rail services in addition to Metro buses," said Flowbird Managing Director David Thompson. "This will make it easier than ever before for the people of Belfast to use public transport, knowing that a simple 'tap' will guarantee them the best available correct fare for that day. As long-term partners for Translink's Future Ticketing System, we are delighted to be supporting the development of one of the world's biggest integrated multimodal transport networks."
The scheme will ultimately be extended to a further 1,050 Ulsterbus and Goldliner vehicles, with additional 'tap off' functionality being introduced across Metro, Glider, Ulsterbus and NI Railways services in future. The CloudFare back office system will automatically work out the best available fare for the journey, regardless of the mode of travel or the number of legs.