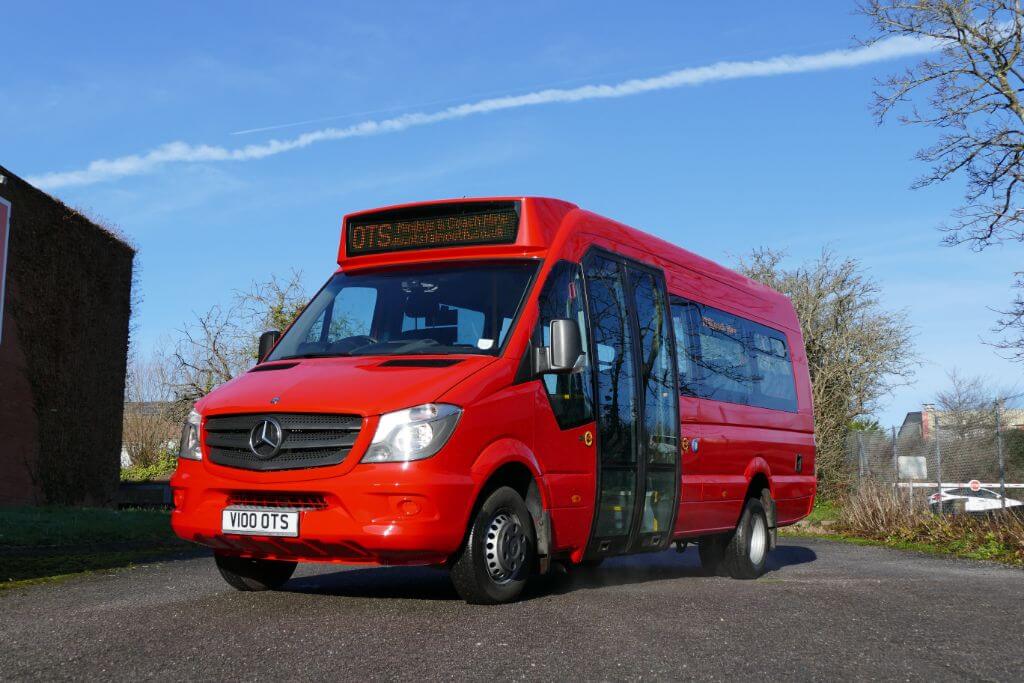 After many months of planning, the future of Cornwall Council's new bus network is now starting to be revealed with the launch of the new brand and website
Cornwall Council's new brand for transport throughout the South West county will be Transport for Cornwall. Whilst initial plans of the new operation had not been revealed, the new website went live on Saturday 14 March revealing the brand, livery and further information on the full launch of the network from 29 March.
At the time of this issue of CBW going to press, the new website does not show all services on the new network but does reveal further information about the relationship between Cornwall Council and Go Cornwall Bus, a subsidiary of Go-Ahead Group-owned Plymouth Citybus.
Explaining the Transport for Cornwall funding, the website statement says: "Transport for Cornwall is the partnership between Cornwall Council, Go Cornwall Bus and other local public transport providers who are delivering the vision for a high-quality, integrated and customer-focused public transport network.
"In 2015 the Council signed a Devolution Deal with Government to gain greater powers of governance over public transport. It was also successful in securing £9.5m Local Growth Funding from the Cornwall and Isles of Scilly Local Enterprise Partnership to match against its own £2.9m and deliver improvements for passengers in recent years such as upgraded waiting facilities, new vehicles and real-time information displays in bus stops across the county. This work was carried out in partnership with local transport operators under the title 'One Public Transport System for Cornwall.' This has recently been retitled 'Transport for Cornwall' and will be formally launched in May 2020.
"From 2017, successful partnership working has encouraged significant investment of over £34m from bus operators First Kernow and Go Cornwall Bus in the provision of brand-new, low-emission buses to operate the network, many with WiFi and USB charging. Ahead of the launch of Transport for Cornwall, Go Cornwall Bus has committed further investment into driver recruitment and training, depot facilities and the improvement of information for passengers to deliver the Transport for Cornwall vision.
"Working with Plymouth City Council, Cornwall Council has recently received funding from Plymouth's Transforming Cities Fund to upgrade roadside waiting facilities and improve real-time passenger information at bus stops and rail stations on routes into Plymouth in south and east Cornwall. It has been able to further enhance information and integration between bus and rail through a successful bid to GWR's Customer and Communities Improvement Fund (CCIF) which has facilitated the installation of real-time passenger information screens mainline stations throughout mid and west Cornwall, informing passengers of opportunities to connect easily between bus and rail.
"Transport for Cornwall aims to deliver a high-quality public transport system that Cornwall can be proud of and, as such, Cornwall Council and its partners will continue to secure appropriate funding to improve the public transport product and experience for all customers."
Meanwhile, some bus services will not be directly operated by Go Cornwall Bus but will be contracted out to some of Cornwall's independent bus operators.
OTS of Falmouth has gained the contract to operate bus services in the Falmouth area and has invested £750,000 in new Mercedes-Benz minibuses, and started to paint the existing Falmouth town service fleet red. Transport Manager Ben Moore told the Falmouth Packet: "We are very excited to be working in partnership with Go Cornwall Bus. We have always strived to offer the highest quality bus services for the people of Falmouth and surrounding villages and we are delighted that our efforts have been recognised. We can't wait to start operating more routes and delivering the kind of improvements the local area deserves."
The company is also committed to investing in a new depot which will provide undercover parking for all the companies vehicles and improved driver rest facilities.
Hopley's Coaches is another contractor and will retain one of its Euro V Optare Solos but will add three Alexander Dennis Enviro200s to the fleet, whilst Summercourt Travel will also provide services on behalf of Go Cornwall Bus.
Go Cornwall Bus requires an additional 130 vehicles to operate services from 29 March, whilst new vehicles from Alexander Dennis are currently being delivered, a number of vehicles from fellow Go-Ahead Group subsidiaries are being transferred as a temporary measure until the new fleet has arrived and entered service.
These so far include Plaxton President-bodied Volvo B7TLs from East Yorkshire, ADL Enviro200s from Go-Ahead London, Scania Omnidekkas from Brighton & Hove and Scania Omnicitys from Go South Coast. Whilst seven former Stagecoach London 2014 ADL Enviro400s have been acquired.
Meanwhile, First Kernow has now issued its new timetable booklet online and this shows that a total of 35 bus services will be operated from 29 March, this compares to nearly 100 services that are currently operated.
Full details of the company's 20:20 VISION business plan are yet to be revealed but Commercial Director Marc Morgan Huws tweeted on his own personal account in January, when the announcement about the Go Cornwall Bus contract award was made, that: "At First SW we're set to launch our 20:20 VISION in the next few weeks – a new business plan for our Kernow, Buses of Somerset and Truronian businesses – with a strong commercial focus, targeting market growth, new opportunities and innovation we'll be redeploying resources into our commercial growth opportunities, and working with the best in the business to deliver higher quality and powerful brands across the business."
Full details on the 20:20 VISION are expected in the coming weeks, but it is understood that further investment is being made in the Truronian coach unit fleet, whilst the First Kernow fleet will benefit from 10 newly converted ADL Enviro400s for the Atlantic Coaster services, and 43 Wrightbus Geminis cascaded from First Bristol which will replace older Plaxton Presidents in the fleet.