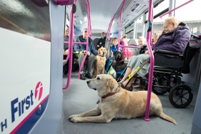 The body says changes would improve employment opportunities and healthcare access for disabled and highlighted the benefits of audio-visual systems
The Transport Select Committee has published a report on entitled Access to Transport for Disabled People.
The report concluded that enabling and encouraging access to transport for disabled people would have widespread benefits. These included:
Disabled people would have access to more employment opportunities;
Disabled people would be able to travel to healthcare centres, reducing the requirement for home visits;
Disabled people would have easier access to a wider range of education and training opportunities; and
Disabled people could travel to shops and to meet friends in cafes and bars, increasing the spending by consumers.
Given the potential benefit across government from promoting transport for disabled people, the Transport Select Committee said it was surprised at the lack of such co-ordination and engagement currently between departments, as seen with the lack of co-ordination between the DfT and Department for Work & Pensions over changes to Motability.
Bus Users UK cautiously welcomed the report. Stephen Morris, Deputy CEO of Bus Users UK said: "The report puts forward a number of vital proposals which Bus Users UK has itself been calling for, which will greatly improve bus travel.
"Making disability awareness a compulsory part of driver training, for example, and having clearer guidelines on the use of wheelchair spaces on buses will undoubtedly improve journeys for people with disabilities. Other proposals, like having audio/visual announcements fitted to new buses will benefit all bus users, particularly people using a service for the first time."
However, Bus Users UK raised concern over the possible unintended consequences of penalising bus companies for running non-accessible buses on services advertised as wheelchair accessible: "This is a serious issue for wheelchair users and clearly needs addressing. But measures should not be so punitive as to deter operators from advertising services as accessible, nor encourage them to miss out journeys when no accessible bus is available."
The report backed the charity Guide Dogs' call for audio-visual announcements on buses.
Guide Dogs CEO Richard Leaman gave evidence to the committee earlier this year and argued audiovisual announcements were the most important thing which could be done to improve transport accessibility for two million blind and partially sighted people in the UK.
Welcoming the report, Mr Leaman said: "We're delighted the committee sees audio-visual announcements on buses as important as we do in improving accessibility for all passengers.
"Our guide dog owners want to get out and about on their own terms and buses play a vital role in allowing them to do so. But the worry of not being sure if you have got on the right bus, where you are on your journey, or when your stop is coming up, puts many people with sight loss off using them. Almost all of our guide dog owners have had some experience of missing their bus stop, so it's not enough to rely on drivers.
"We hope the Government listens to this influential group of MPs and takes action now to introduce talking buses for the benefit of all passengers.""
The full report can be read at https://tinyurl.com/37zo8zn