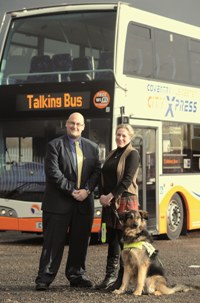 First operator to introduce audio announcements in Coventry and Warwickshire
Travel de Courcey has become the first operator in Coventry and Warwickshire to introduce on-bus audio announcements to help blind and partially sighted passengers.
The announcements will be launched on the Coventry to Leicester X6 service in February and will be fitted as standard on any new buses added to the firm's fleet, including new electric buses currently being built for Coventry's Park and Ride service which operates from the War Memorial Park.
The X6 is also being extended to operate every day of the week, with a new Sunday service starting from January 29 to include three return journeys as well as an additional direct link from Burbage to Coventry and Leicester, which includes Fosse Park.
Ben Hobday, project manager at Travel de Courcey, said: "As well as having a visual display, our buses on the X6 service now have audio announcements informing passengers of the next stop.
"It involves a piece of equipment being fitted to the vehicle which has a satellite navigation system to automatically trigger the right announcements being made at points on the journey between Coventry and Leicester."
The company said it is the latest initiative by Travel de Courcey which has gained widespread recognition for its innovative and customer-focused approach.
The X6 service, which serves University Hospital Coventry and Leicester Royal Infirmary, also includes free Wi-Fi for passengers.
The move has been welcomed by Guide Dogs, whose Talking Buses campaign is calling for a change in regulations to make audio and visual information available on bus and coach services throughout the UK (CBW1019).
Following the government's announcement for £50m Better Bus Areas funding for bus companies to reduce congestion, improve bus stations and provide better information for passengers, Guide Dogs wants bus operators to bid to install audio visual systems to make buses easier to use for all.
John Welsman, Guide Dogs' transport policy officer, said: "We're trying to help the 180,000 people living with sight loss who struggle to leave home alone, and every bus company which adopts audio visual systems helps us to do that.
"Buses are often the most accessible and affordable form of public transport for blind and partially sighted people. Not knowing where you are on a journey or when you've reached your stop deters many visually impaired people, from using buses.
"Providing passengers with audible and visual information about the next stop and final destination will increase their confidence.
Welsman concluded: "Travel de Courcey's new audio visual systems will enhance every passenger's experience, especially those living with sight loss."
Beverley Muldoon, who lives in Leamington Spa, has cone dystrophy, which means her sight is adversely affected by bright light, and relies on her guide dog, Fifi. "Using a bus without audio visual announcements is difficult because you have to rely on other people to tell you when you're at your stop, but they often forget" she said.
"If you get off at the wrong stop, it's easy to end up lost. Bus companies such as Travel de Courcey adopting audio visual systems can only be a good thing."